GM Bob Murray talks Ducks on NHL Hour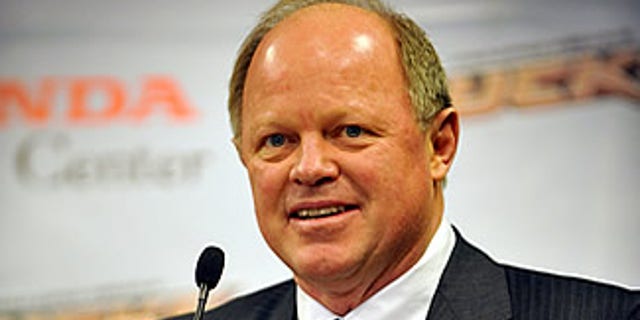 Anaheim Ducks GM Bob Murray was succinct when asked what he liked about the team's series-opening 4-1 loss to the Nashville Ducks in a Western Conference quarterfinal Wednesday night.
"Nothing," Murray said.
However, the veteran of 35 NHL seasons – 15 as a defenseman for the Blackhawks and two decades serving the Chicago, Vancouver and Anaheim organizations in various capacities -- believes the Ducks know what they have to do in order to play better in Game 2 on Friday and even up the series.
"I think we have to get off to a better start. I think we have to come prepared to play 60 minutes, get our emotion back. There was a huge lack of emotion last night, so we have to get our emotion back from the first minute of the game tomorrow night and then I think we'll be OK," Murray said.
A guest on Thursday's "NHL Hour With Commissioner Gary Bettman," he talked about how Anaheim recovered from a slow start to the season to finish with 15 wins in its final 20 games and gain the fourth seed in the West.
"With this group, I think they came together sometime around Christmas and started to feel good about themselves and the hockey team," Murray said. "And then they got thrown a few curveballs with injuries and they responded to it. They faced the adversity and they became stronger because of it. And the chemistry grew in the locker room. I'd say they responded very well down the stretch."
Two key players in their fantastic finish were forwards Corey Perry and Teemu Selanne.
On Perry, whose late tear allowed him to reach the 50-goal plateau and claim the Rocket Richard Trophy as the League's leading goal-scorer, Murray said, "I saw a huge difference when he came back from the Olympics last year. I think that was something that was very good for Corey Perry. He realized that going there and being around the best in the world that, if I had any doubts about being here, well I know I'm here now. And this year he just came in and from day one he's been all business."
He also had plenty of praise for Selanne, who turns 41 this summer but is still putting up 30-goal seasons and flashing the same skills that made him a star as a rookie 18 years ago.
"It's two parts about him, it's on the ice and off the ice," Murray said. "On the ice he's just so fun to watch -- his skating and the passion he plays the game with, and he loves to score goals and he can probably do it for a few more years if he wants to. And then there's the off the ice, where he's full of life and he keeps our dressing room lively … he's always smiling, always happy, and there's always something going on in the room when Teemu's there."
In talking about his displeasure with the Ducks' Game 1 performance, Murray also made sure to credit the fact they're playing a very difficult opponent in the Predators.
"It didn't totally surprise me last night how we came out," he said. "This group seems to like to do that. They've got to get right behind the eight ball before they get going and they know obviously the danger of that is we're playing a very well-coached team with a really good goaltender and you can get yourself in deep trouble. But this group, I just know they're going to respond and I have total faith in them."
Murray might prefer to be one of the players right now, as he thinks it's a little easier for them to get over a loss than members of the front office.
"As a player you have the off day, you get to come to the rink and you go back out there and you get your mind in the right place," he said. "With our job now, it's the waiting game, and that has been the biggest adjustment, you've got to find things you've got to do and you look into other things. Because there's really, at this point in a time for a general manager, there's a lot of things out of your control. So it's kind of difficult but you try to keep everybody focused, whether it's your coaching staff or whatever. It's one game, and you've got to win four."
If they're able to advance, depending on how other Western Conference series play out, maybe Murray will get his wish sooner rather than later to see the Ducks face off against the rival Kings -- their series against the Sharks gets under way Thursday night as all three California teams qualified for the playoffs for the first time.
"It's outstanding that all three teams finally made it together," Murray said. "I think it's great. I think it would be a real big bonus if someday L.A. and us can have a series together. Because you know how rivalries really reach their max when you play each other [in the playoffs]."