Glute injury may force Nationals' Harper to sit out Thursday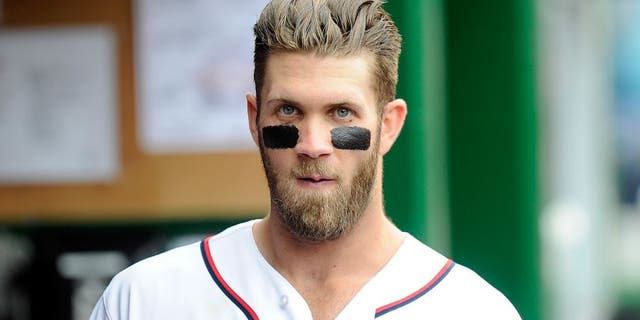 A somewhat fluke injury has Washington Nationals outfielder and National League MVP candidate Bryce Harper iffy for the opener of Thursday's four-game series against the Atlanta Braves.
Harper was forced to exit Wednesday's game against the St. Louis Cardinals due to tightness in his left glute. After failing to run out a ground ball in his second at-bat, Harper called it a night and went to the clubhouse.
Telling reporters he tried to "cowboy up" and play through the pain, Harper said he was hurt when he stepped awkwardly on the first base bag during the previous night's game. The nature of the injury drew a predictable wide range of responses on Twitter.
"At this point in the season, there's always aches and pains but this one felt a little different, a little worse," Harper said. "On that last swing it just didn't feel good. I didn't want to run it out. ... Hopefully it feels better. Hopefully I can see the (physical therapy) and see where I can go."
As for as the therapy, Nationals manager Matt Williams said the plan is for Harper to ice the ailing glute and hopefully be ready for Thursday night's opener of a seven-game homestand.
"Not taking a chance with it," Williams said of the injury to his star player, who owned a National League-leading .331 batting average and was third in the league with 31 homers entered Thursday's play.
(h/t Washington Post)