Glover Teixeira spoils Ovince Saint Preux's homecoming with third-round submission win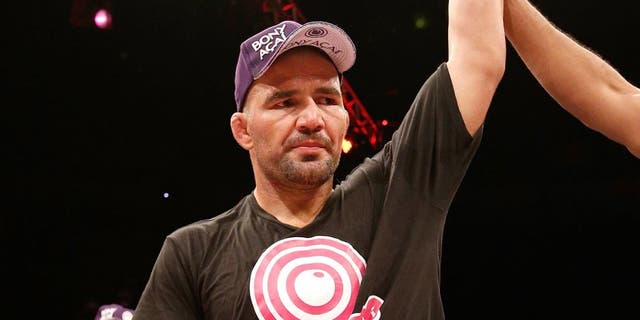 Back-to-back losses had Glover Teixeira in a must-win situation walking into enemy territory in his opponent's home state, but the former title contender dominated highly touted prospect Ovince Saint Preux en route to a third-round rear-naked choke finish.
Teixeira fell to former light heavyweight champion Jon Jones two fights ago before being out wrestled by Phil Davis in his last bout and sitting out for the last 10 months waiting for his next matchup to materialize.
While he was the favorite on the early betting lines, Teixeira actually walked into the Bridgestone Arena in Nashville as a slight underdog to Saint Preux, who played football at the University of Tennessee just a few hours away by car from the fights on Saturday night.
From the very start of the fight it was clear Teixeira had no plan to stand and exchange punches with the powerful Saint Preux, who knocked out his last two opponents in impressive fashion.
Saint Preux was able to work his way back to the feet after one takedown before unloading a huge body kick that crippled Teixeira and sent him down to one knee. Saint Preux followed up with a huge barrage of punches, but the veteran Brazilian defended well and ended up with another takedown, where he immediately transitioned to the mount.
From that moment on, Teixeira used a stifling ground game to maintain control. Teixeira was able to work the fight to the ground repeatedly and Saint Preux just offered up no defense as the Brazilian passed his guard and got back to the mount time after time.
Finally in the third round, Teixeira put Saint Preux on his back and didn't let him up again as he started to unload huge punches that forced the Tennessee native to roll, which immediately put him in position for the No. 4-ranked fighter to take his back.
Teixeira wasted no time sinking his forearm under Saint Preux's chin and it was clear the fight was almost over. With the Nashville faithful rooting him on, the Tennessee native refused to tap and eventually went to sleep instead.
The win puts Teixeira back on track following the roughest run of his pro career where he had never lost two fights in a row.
Teixeira losing to Jones in his only UFC title fight was a setback, but it was the loss to Davis that seemed like his roughest performance to date. Teixeira acknowledged that the loss was not his best night in the office and he needed to come out and put together an impressive win over a top 10 opponent.
"My last performance was bad and I told myself I wanted a performance like this. I'm back man, Saint Preux is a great fighter," Teixeira said. "Thank you everybody
Now that he's back in the win column, Teixeira quickly turned his attention to light heavyweight champion Daniel Cormier with a warning that he's still coming for the title.
"I'm back," Teixeira said. "Cormier -- I told you before, I'm coming for you, baby!"
The loss is a step back for Saint Preux, who desperately wanted to establish himself amongst the elite fighters at 205 pounds with a win, but instead falls in his second bout against a top-five fighter after losing to Ryan Bader a year ago.
Never deterred, Saint Preux addressed his home-state crowd and promised to return with a win the next time he steps foot in the Octagon.
"I swear to God I'll be back," Saint Preux said. "Better than ever."