Gleison Tibau handed 2-year suspension for positive drug test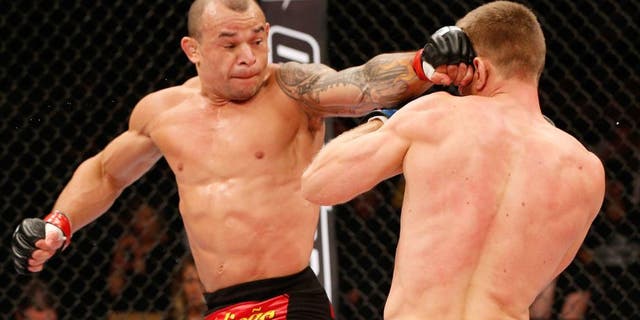 UFC lightweight Gleison Tibau has withdrawn his appeal for a recent positive drug test and will accept a two-year suspension for his infraction.
Tibau tested positive for erythropoietin (EPO) both in and out of competition surrounding his fight this past November against Abel Trujillo.
Immediately following the revelation of the positive test, Tibau said he would appeal the verdict but ultimately accepted the penalty from the United States Anti-Doping Agency (USADA), who announced the suspension on Thursday.
"Tibau's period of ineligibility began on November 7, 2015, the date on which he last competed," USADA officials wrote in a statement. "In addition, Tibau has been disqualified from all competitive results obtained on and subsequent to October 23, 2015, the date on which his first positive sample was collected in violation of the UFC Anti-Doping Policy.
"As the regulatory body that sanctioned Mr. Tibau's bout on November 7, 2015, the Comissao Atletica Brasileira de MMA (CABMMA) has recognized USADA's sanction and, in accordance with the CABMMA Anti-Doping Policy, reversed the outcome of Mr. Tibau's bout from a "win" to a "loss."
Tibau's performance that night was one of the most impressive of his UFC career but now it reads as a defeat while also forcing the veteran competitor to the sidelines until at least November 2017.
"UFC recognizes the two-year sanction issued today to Gleison Tibau by the U.S. Anti-Doping Agency (USADA) for violations of the UFC Anti-Doping Policy," UFC officials wrote in response to Tibau's suspension.
"UFC secured the services of USADA, a third-party agency, last year to administer its Anti-Doping Policy to ensure that all athletes compete on an even playing field, free of performance enhancing drugs. UFC supports the issuance of necessary sanctions to maintain a clean sport."
Tibau has 26 total fights with the UFC after first debuting there in 2006 but now he'll be forced to sit out for the next two years as a result of his positive drug test.