Gimenez enjoying career-best month with Rangers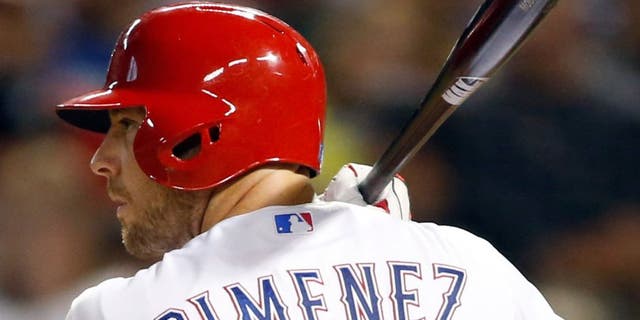 Chris Gimenez is the quintessential 'journeyman' ballplayer. The 32-year-old catcher has spent parts of seven seasons in the big leagues but has logged even more time in the minors.
Currently, however, he's enjoying the best month or so of his major-league career with the Texas Rangers. In 19 games with Texas, Gimenez has hit five home runs (already his career high for a season) in just over 50 official at-bats.
He's filling in for the injured Robinson Chirinos, and it's a move that has paid dividends for the Rangers as they remain in the postseason picture. Jeff Wilson of the Star-Telegram notes that Texas entered play Sunday 13-3 in Gimenez's starts, but the veteran backstop is well aware of his 'role' in the game: "I've learned throughout the years that I know the type of player I am," he told Wilson, adding, "When I was younger, I was trying to hit three home runs in a game to play within the next few days. But now it's a completely different story. I know I need to do my catching and be mentally prepared for that, and whatever I do offensively is a big plus."
Making the most of the opportunities he's given is Gimenez's main goal, even if he may be relegated to a spot on the bench once Chirinos returns to the lineup.
Obviously, Gimenez told Wilson, he's interested in an everyday role - but he admitted that he's 'come to grips' with his backup status: "Everybody wants to play every day. If you don't have that goal, you shouldn't be playing in the first place. But I think I've come to grips with it. I'm 32 years old now, and I've had some really good experiences that have helped me prepare for that role. I'm OK with it."
He's at least proving to the Rangers right now that he is a more than viable secondary option.
He's at least
Read more here: http://www.star-telegram.com/sports/mlb/texas-rangers/article34212576.html#storylink=cpy