Gilbride: Will Tye is going to make a lot more big plays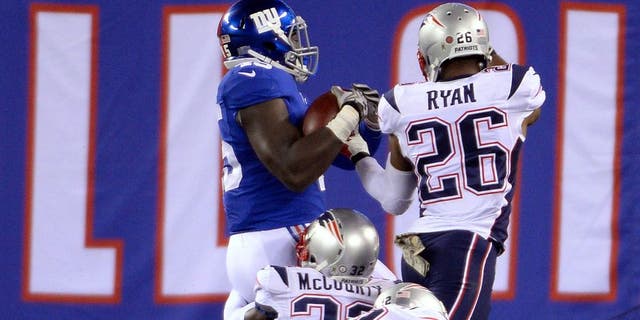 Giants tight end Will Tye (45) makes a 31-yard reception against the Patriots in Week 10. Robert Deutsch USA TODAY Sports
Undrafted free agent tight end Will Tye has been asked to take on a starting role for the New York Giants after tight ends Daniel Fells and Larry Donnell went down to injury. Tye has started the Giants' past two games and his 31-yard reception in the second half set up a touchdown. Giants tight ends coach Kevin Gilbride Jr. expects more big plays from Tye over the final six games.
"I always felt like he had it in him to be a good player, but he's young, he's green, his development is what still needs to take place and it shows it, it shows it in some of the inconsistencies that he has," Gilbride said, per Giants.com. "But I'll tell you what, he's made some big plays for us, too, and I think down the stretch, he's going to make a lot more. "
In Week 10, Tye finished with 56 yards receiving on five receptions. He finished with the second-most receptions and third-most targets on the team. Even when Donnell returns from injury, there will be a role for Tye.