Giants WR Odell Beckham: The offense is starting to click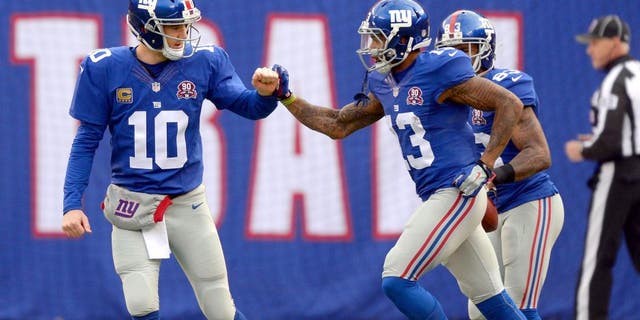 Everything is starting to come into perspective for Odell Beckham Jr. The second year receiver is starting to get a feel for how good this New York Giants offense can be in 2015 with its current stable of talent.
"I think it's going to be a great year for all of us," Beckham said to reporters on Friday, per True Jersey. "Eli looks great, the receivers are looking better and the offense is starting to click."
So far throughout camp, Beckham has been on a pitch count. The Giants' coaching staff has held him out of many first team repetitions in an effort to take things slowly as he recovers from a hamstring injury he suffered during the team's spring practices.
"I open up every now and then, and there are times when I hold back," Beckham said. "It's still early. You just try to make it through as many practices as you can and get better."
The Giants' offense has potential to join the league's elite ranks in 2015. In addition to Beckham, the Giants added Shane Vereen to provide a viable receiving option out of the backfield, Victor Cruz is back, and Rueben Randle and Eli Manning look better than ever in practice so far.
(h/t True Jersey)