Giants-Steelers game brings some relief in wake of Sandy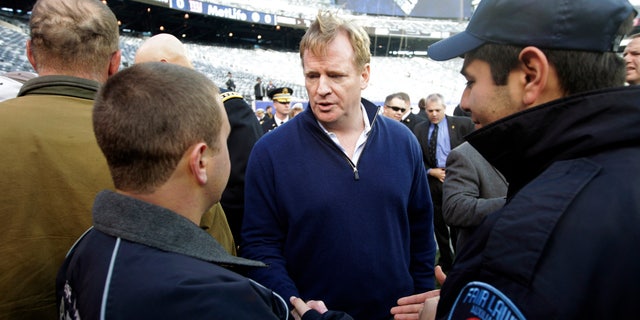 EAST RUTHERFORD, N.J. – Courtney Davis has no idea what her house looks like because her town of Sea Bright was washed away by Superstorm Sandy.
Yet she was at the Meadowlands on Sunday for Steelers-Giants.
"We need this," Davis said. "We could really use this game and having a good time."
Davis and many other fans tailgating outside MetLife Stadium said they were thankful NFL Commissioner Roger Goodell did not postpone the game or order it moved to Pittsburgh. And Goodell stopped by to do some tailgating himself, then meet on the field and congratulate first responders, calling them "heroes."
Asked about concerns for playing the game, Goodell said:
"I sure didn't hear that here. I didn't hear it out in the parking lot. In fact, exactly the opposite of that ... `we want to be able to get away from what we have been dealing with all week for a while' and a couple of guys said, `This re-energized us. We're ready to go back.'
"That's a nice sense."
The game was never in real danger of being called off, unlike Sunday's New York City Marathon that was canceled on Friday after growing public pressure.
Given the gas shortage in the state -- New Jersey has implemented a rationing program -- and a depleted mass transit available, the Giants urged fans to carpool to the stadium. In their conversation before the weekend, Goodell was assured by Gov. Chris Christie that the game wouldn't divert any major resources from relief efforts.
Davis described a beach town that looked more like the desert, with sand dunes piled 8 feet high and bulldozers trying to level them "just like you see in a blizzard."
"Debris everywhere," she added. "We have no idea when we can go back."
Earlier in the week, seeing Steelers-Giants didn't enter her thoughts. But as the weekend began, she decided the Meadowlands was the right place to be.
So while the parking lots filled up and smoke rose from barbecues, people who lost power but not resolve found their way to a football game. And to each other.
"I think there's a sense of release, to take your mind off it," said Tara Brewster of Staten Island, the New York City borough devastated by the hurricane and its aftermath. "If they changed this game to another day, I really wouldn't have been upset, but everyone is coming together. New York is the kind of city that handles everything."
Jim Turbek had 30 inches of water in his basement, even though he lives nowhere near the shore. He went to the game.
"The water was coming in waves," Turbek recalled about a canal overflowing near his home. "We probably lost all our appliances, and my chimney fell in, too."
Turbek never considered missing the game. His brother was a big Steelers fan, so Turbek wore a Steelers cap and said he was "here because Steven would have come. It's good to get back into a routine.'pushed back to Monday night. They were stunned by what they saw, Morrow describing areas they drove past in New Jersey as "a war zone."
"Huge trees uprooted, 50 people or more standing in line at a gas station with gas cans; no cars, but the cans," Morrow said.
"We didn't know about the rationing," Alling added. "We have an odd number (license plate) and we weren't sure if we could gas."
They did, and they were enjoying some barbecue in the parking lot, surrounded by thousands of others who found their way to the Meadowlands.
One of those people plunked a pumpkin on a car hood. On it, in black magic marker, was written "We Will Survive."