Giants reliever Affeldt embarrassed after suffering another off-field injury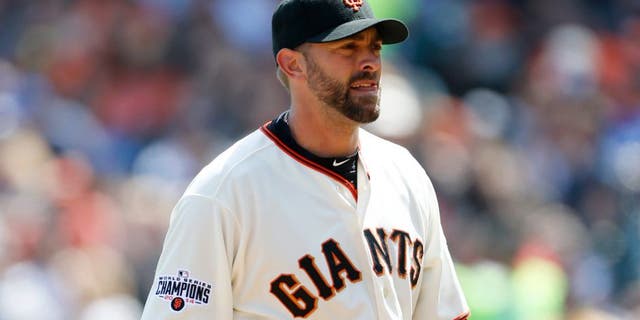 Jeremy Affeldt is on the disabled list for the San Francisco Giants, but how he arrived there has nothing to with baseball.
During the Giants' off-day on Monday, Affeldt suffered a subluxation of his left knee, a partial dislocation of the patella, while playing with his children back home in Washington.
"Getting hurt on the off-day, that's the M.O.," Affeldt said. "It's embarrassing, yeah, but I was with my kids. I'm not going to apologize."
The left-handed reliever revealed how the injury occurred.
"We were just playing with their water stuff they have out there," Affeldt said. "We were having a good time. It wasn't like we were knee-boarding or wakeboarding or anything like that. I was just playing with them on some of their float stuff and I just lost my footing. I tried to favor my right knee so I wouldn't hurt that, and then my good knee decided to buckle and pop. And I tore the patella ligament."
"It was just Jeremy being Jeremy," said manager Bruce Bochy, who has grown too accustomed to Affeldt injuring himself away from the ballpark.
This is hardly the 36-year-old reliever's first accident off the field that cost him time away from the mound.
Affeldt's series of bizarre injuries began in 2011, when he sliced his right hand while using a knife to separate frozen hamburger patties. A year later, he sprained his knee while greeting his enthusiastic son.
While he was placed on the disabled list on Tuesday, Affeldt thinks he'll be back to pitch this season, and is confident he hasn't done any major damage to his knee.
"The structure of the knee is fine; the ACL is fine; the MCL is fine; the meniscus is fine. I guess it's just a little ligament up there near the knee that kind of tore off," he said. " ... It could have been a lot worse. ... I'll probably be pitching with two knee braces. By the end of the season, I'll probably have every brace known to man on every joint known to man."
(h/t MLB.com)