Giants OL coach tells a great story about rookie Ereck Flowers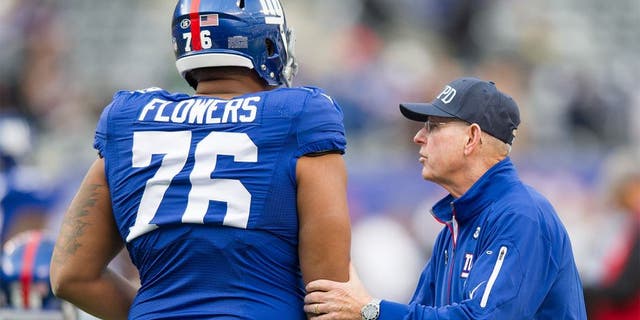 NEWYou can now listen to Fox News articles!
Giants rookie left tackle Ereck Flowers has the kind of toughness you can't teach. William Houser USA TODAY Sports
One of the reasons why the New York Giants selected offensive tackle Ereck Flowers in the first round of the 2015 NFL Draft was because of his nasty-streak and overall toughness. Giants offensive line coach Pat Flaherty has experienced that first hand during Flowers' rookie season.
"I'll tell you a funny story," Flaherty said Monday, per ESPN's Dan Graziano . "Do you know he got mad at me when I worked him out before the Buffalo game?"
Flowers felt like he was ready to in Week 4 against the Buffalo Bills, but the Giants wanted to put him through a pre-game warmup to make sure. He was not happy with that decision.
"He said, 'I'm fine. I'm playing'," Flaherty recalled. "So I said, 'That's great, but the procedure is that we take you out on the field, the trainers watch you do some drills and they decide whether you're OK to play.'"
Flowers given the go ahead to play after the workout, but that didn't make him any happier with Flaherty.
"He just stared at me," Flaherty said. "But wait! It gets better."
Flowers got injured on the first play of the Giants' first offensive possession and he was pulled for the game. That's when Flaherty finally delivered him the first good news he had heard that day.
"So I sat down next to him and I said, 'We didn't activate you to play one play. Your ass is going back in there the next series,'" Flaherty said. "And he perked right up. First time all day he smiled."
MORE NEWS: Want stories delivered to you? Sign up for our NFL newsletters.
Flowers finished the game and has played every snap for the Giants at left tackle since. He is still not 100 percent healthy, but he is playing through his ankle injury anyway. He has had his ups and downs on the field, but no one can question his toughness.