Giants offseason preview: Top-tier starter needed to continue even-year trend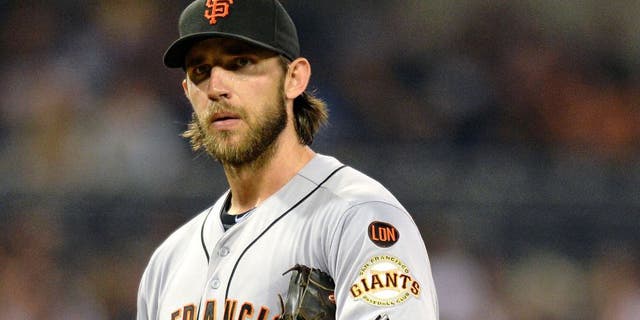 (We will preview one team's offseason each day leading up to the start of free agency. Now up: the San Francisco Giants.)
A year after winning their third World Series in five seasons, the Giants failed to make the playoffs in 2015, finishing in second place in the NL West with an 84-78 record.
Although disappointed, the Giants hope to continue a peculiar but glorious trend, as they have alternated between winning the World Series in even-numbered years and missing the postseason in odd-numbered years in each of the past seven seasons.
With a talented core including All-Stars Madison Bumgarner and Buster Posey, the emergence of young homegrown players like Matt Duffy, and a potential few key offseason moves, the Giants will undoubtedly be in line to keep their unique streak intact.
Three things San Francisco must address this offseason:
1. Pick up premier starter(s) on the free-agent market. Unlike in recent years, the Giants' rotation faces much uncertainty entering 2016. Tim Hudson has retired; Tim Lincecum is coming off hip surgery and is a free agent; Matt Cain's longevity is in question; and rookie Chris Heston was inconsistent despite throwing a no-hitter in 2015.
Giants starters weren't terrible this past season, but they were run-of-the-mill -- which hasn't been typical in recent history, particularly in the team's World Series campaigns. The rotation ranked seventh in the NL in ERA (3.95), seventh in opponent OPS (.715), and ninth in strikeouts (735).
The only reliable arms remaining in San Francisco's starting rotation are Madison Bumgarner and Jake Peavy, making it imperative that the front office snatch a top-tier free-agent starter this offseason.
Fortunately, there are a handful of elite starters to choose from, including David Price, Zack Greinke, Jordan Zimmermann, Jeff Samardzija and Johnny Cueto. San Francisco could also re-sign Mike Leake, who is still considered a top right-hander despite his subpar stretch when joining the Giants after the trade deadline.
Whether it's one or potentially a pair of starters, the Giants' front office needs to be active in scooping up top talent for its rotation in the offseason.
2. Keep Byrd; pass on Aoki. Outfielders Marlon Byrd ($8 million) and Nori Aoki ($5.5 million) have team options for 2016, and there's little chance both of them return, simply for payroll reasons. While Byrd is older and will be pricier to retain, the Giants should bring him back and kindly pass on Aoki, who raised concerns about his future after struggling with concussion symptoms for the final two months of the season.
Byrd not only supplies the Giants with a solid reserve outfielder -- he drove in 31 runs in 39 games with San Francisco after being acquired from the Cincinnati Reds in late August -- but also brings veteran leadership and a strong work ethic.
While Aoki had a solid start to the season and figured to be the Giants' starting left fielder for years to come, his concussion problems (and other injuries he dealt with throughout the season) make him a gamble for the Giants.
Above all, San Francisco has touted prospect Jarrett Parker waiting to return to the outfield after putting on a show in his first stint in the big leagues, during which the 26-year-old hit .347/.407/.755 with six home runs and 14 RBI in 21 games.
3. Convert Tomlinson into a utility man. With All-Star Joe Panik reclaiming second base in 2016, rookie Kelby Tomlinson will have to relinquish his starting spot at the position where he thrived in Panik's absence.
Tomlinson, who hit .303/.358/.404 with two home runs, 20 RBI, and five stolen bases in 54 games this season, possesses the type of uplifting energy and work ethic (much like fellow rookie Duffy) that will continue to bolster the Giants.
Although Panik is the clear-cut choice to start at second, that doesn't meant that Tomlinson should be restricted to a backup role. Instead of going out and nabbing a utility man like Ben Zobrist on the free-agent market, the Giants can use Tomlinson in that role. He has expressed his willingness to learn how to play the outfield to expand his versatility.
It would be an inexpensive move with loads of potential upside, and would fit the mold of the Giants way: Hard work and positive attitude lead to success --€" a mantra they hope will keep their even-year streak on track in 2016.