Giants kicker Josh Brown said he abused wife, documents show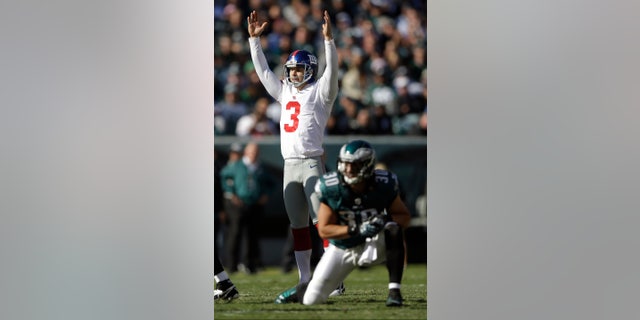 Giants placekicker Josh Brown admitted in journal entries and emails that he verbally and physically abused his wife, according to documents that were part of a domestic violence case obtained by SportsNet New York.
Team spokesman Corry Rush declined comment Thursday morning on the details that emerged from a case in Washington. Brown was arrested in May 2015 on a domestic violence allegation but no charges were filed against the 37-year-old player. He was suspended for one game by the NFL at the start of this season for violating the league's personal conduct policy.
"I have physically, mentally, emotionally and verbally been a repulsive man," Brown wrote in one journal entry. "I have abused my wife."
The journal was part of was part of 165 pages of documents that were turned over to authorities by Brown's former wife, Molly, after his arrest. She had accused him of more than 20 instances of domestic violence.
The King County Sheriff's Office in Washington released 165 pages of documents that were released to SNY, the regional sports network.
The Giants were expected to practice Thursday at their home facility as they prepare to travel to London for a game against the Rams on Sunday. It was not immediately clear whether Brown would practice or speak with reporters afterward.
One of the documents dated more than two years before Brown's arrest was called a "Contract for Change" and appeared to be signed by both the kicker and his former wife.
"I have controlled her by making her feel less human than me, and manipulated her with money," said one of the eight items in the list. "I have disregarded my stepsons' feelings and they have witnessed me abusing their mother."
In a 2013 email, Brown said he caused his wife to fear him.
"From the bruise on your leg when we argued ... to the zipper that caught you last April. I am ashamed and disgraced to call myself a husband," Brown said.