Giants CB Rodgers-Cromartie spends as much time explaining photo as injuries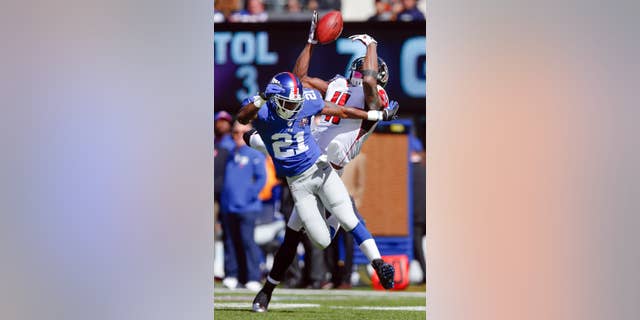 EAST RUTHERFORD, N.J. – Cornerbacks Dominique Rodgers-Cromartie and Prince Amukamara got a little advice from New York Giants coach Tom Coughlin, and it had nothing to do with covering Riley Cooper, Jeremy Maclin or anyone on the Philadelphia Eagles this weekend.
The message was basically be quiet and play the game Sunday night.
Rodgers-Cromartie and Amukamara made the mistake of being photographed Tuesday night with a Giants fan who was wearing an Eagles' jersey with a "0'' and the words SUPERBOWLS on the back. Both players made zeros with their hands in the picture.
Amukamara and Rodgers-Cromartie apologized Wednesday, insisting they meant no disrespect to the Eagles (4-1), who have never won a Super Bowl. The Giants (3-2) have won four.
"This is one of those things where we are just trying to make the fans happy when they make a request, and we're not even thinking about it," Amukamara said of the incident at a sports memorabilia event. "Plus we are playing them this week and all the ingredients for it to be bulletin board material or trash talk (are there)."
Amukamara said if he wanted to trash talk this week, he would have opened his mouth and said something to his NFC East rivals.
Since becoming coach 11 seasons ago, Coughlin has had a habit of telling his players: "Talk is cheap, play the game." He reminded his players of that on Wednesday after summoning them.
"We had to explain ourselves," Amukamara said.
Rodgers-Cromartie, who played for the Eagles in 2011 and '12, said he knew something was wrong when he started receiving text messages from his former teammates after the fan posted the picture on the Internet.
"That got blew up," Rodgers-Cromartie said. "We're just two guys taking a picture. Definitely nothing to be disrespectful toward anybody. Just meeting the requirement of a fan. He wanted us to take a picture and we took it."
Like the Eagles, Rodgers-Cromartie has never been a Super Bowl winner. He also is a little iffy for this weekend, even though he practiced on Wednesday.
It seems the right side of his body below the waist has some type of nagging injury. He said his ankle, knee, hamstring, hip and his iliotibial band have bothered him at some point, occasionally causing him to come out of games briefly in recent weeks. The IT band that runs along the outside of the thigh is the biggest problem.
"For the most part you have to get up and go, and I am going to get up and go," Rodgers-Cromartie said after being limited in practice on Wednesday.
Amukamara and Cromartie have played well this season and the Giants are going to need them to step up this weekend against Cooper, Maclin and rookie receiver Jordan Matthews, who have combined for 63 catches for 763 yards and seven touchdowns this season.
The Eagles receivers have gotten a lot of work because opposing teams have stacked the box to shut down running back LeSean McCoy.
"We know that they are going to us their best and we are going to give them our best," Amukamara said. "I don't think it takes someone to say something or to look like someone is talking trash for the other team to pick their game up to the highest level."
Rodgers-Cromartie isn't heading back to Philadelphia to prove anything after a couple of poor seasons there.
"To be honest I am just going in to play a ballgame," he said. "There ain't no love lost or bitterness. It's just another game."
NOTES: RB Michael Cox, who was signed off the practice squad with Rashad Jennings (knee) temporarily sidelined, may get a shot at returning kickoffs, an area the Giants have not done well this season. Quintin Demps has handled the kickoff returns, but he recently moved into the starting lineup at safety for Stevie Brown. ...Jennings and LB Spencer Paysinger (hamstring) did not practice Wednesday. ...LB Jon Beason (foot) and P Steve Weatherford (ankle) were limited.
___
AP NFL websites: www.pro32.ap.org and www.twitter.com/AP_NFL
___
Follow Tom Canavan on Twitter: https://twitter.com/APTCan