Giants CB Janoris Jenkins claims to know every route Dez Bryant runs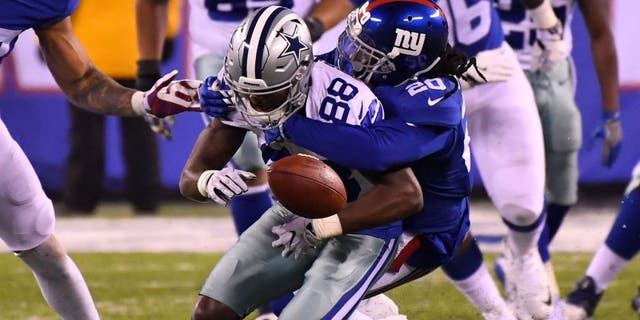 NEWYou can now listen to Fox News articles!
There's no love lost between the Dallas Cowboys and New York Giants. They're bitter rivals, and always will be. That stems from their history of squaring off in the NFC East, and it's likely not going to subside anytime soon.
That's especially true when players continuously take shots at one another -- even in the offseason. From out of nowhere, Janoris Jenkins took a jab at Dez Bryant, suggesting he has the Cowboys receiver completely figured out.
"I played better than he played," Jenkins said, via the Dallas Morning News. "For real, though, to be honest, when you look at film and break down your opponents and the receivers that you're facing, you notice what they like to do. Take away the slant and the dig, and when they get in 21 personnel and Dez is inside the number, you take away the corner post. He doesn't have nothing else."
Jenkins, who was torched by Bryant when he was with the Rams, had a great season against the Cowboys receiver in 2016. He held Bryant to just two catches for 18 yards in two games this season, proving to be a shutdown corner.
Film study clearly helped a lot, and as he alluded to above, Jenkins has figured out Bryant's route tree.
"It might be a stutter-and-go. Ain't no slant-and-go," Jenkins said. "I ain't never seen him run a real post route. Everything's got to be a double move to get him open because he's not fast."
To say Bryant isn't fast is a bit unfair. He's not DeSean Jackson or Tyreek Hill, but he's also not Jason Witten on the speed spectrum. And that's not Bryant's game. He's never been a burner, but he wins by making contested catches and using his physicality to create separation.
Next season's matchups between these two should be fun.