Giants camp: Fight breaks out between Justin Pugh and Damontre Moore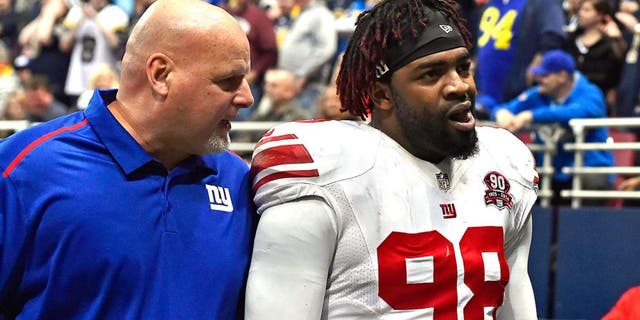 Training camp is a grind for NFL players, and sometimes that grind can lead to a little extracurricular activities on the field. Teammates get into scuffles, and that's just part of training camp. These camp fights generally take place during the "dog days" of camp, a few weeks in, but New York Giants teammates Justin Pugh and Damontre Moore got things started early.
Pugh was taking snaps at left tackle in place of the injured Ereck Flowers, and Moore was lining up across from him at right defensive end. In recent practices, Moore has earned the trust of the coaching staff and he's getting a much higher percentage of first team snaps than in previous practices.
Things got heated as the two players matched up on one pass play and Pugh ended up on the ground. As Moore rushed around the edge, Pugh stuck his leg out and tripped Moore after the play. The two players had a brief exchange before the fists started flying.
Last week, Pugh went into detail about his MMA-inspired offseason workout regimen, but Moore didn't back down. As you'll notice in the video below, Eli Manning was briefly involved in the dispute before he quickly retreated away from danger.
When Coughlin was coaching the Jaguars, he lost a key rookie to a broken hand during a heated camp fight. Coughlin was predictably not amused by the fight, and he wanted to make a point that it is not acceptable in his camp.
"I have a problem with all of them because they're out there swinging," Coughlin said of his aversion to fights to reporters after practice, per Newsday. "I've been hurt first-hand by a guy who broke his hand in a fight. In the old days they would just wrap it up and play with it. They don't do that anymore. I was upset about the fight and losing their temper and all that stuff, but the bottom line is you can't afford to do it. You'll lose a guy."
Pugh did not seem very remorseful when he was asked about the fight after practice. He spoke with Giants beat reporter Paul Schwartz about Coughlin's reaction to the fight.
Don't be surprised if these two take it up a notch the next time they line up across from each other in practice. Of course, they'll probably keep the fists down next time after getting a long one-on-one conversation with coach Coughlin.
(h/t Newsday)