Giants bats go cold again in 5-0 loss to A's in Bay Bridge Series opener in Oakland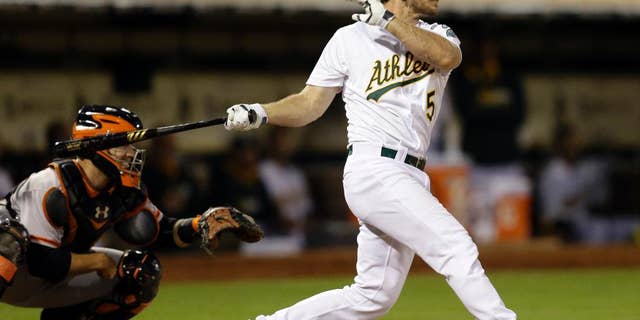 OAKLAND, Calif. – The slumping San Francisco Giants are struggling to hit against just about everybody right now. The major league-leading Oakland Athletics are shutting down opponents at the plate on a regular basis.
That combination added up to a predictable one-sided affair in the Bay Bridge Series opener Monday night, with the Giants getting just five hits in a 5-0 loss to the A's.
"We have to get back to the team we were when everybody did something to help us win," Giants manager Bruce Bochy said. "We have guys cold with the bats. We have to get that confidence back, the belief it's going to happen. We need to get our spark plugs clean and get them back ready to go."
Oakland did everything the Giants didn't.
Jesse Chavez matched a career high with nine strikeouts in six innings, and three A's relievers finished.
Alberto Callaspo hit a two-run double, and three others drove in a run to power the A's in front of an announced sellout crowd of 36,067 festive fans at the Coliseum. The worn-down stadium had a colorful sprinkling of green and gold from Oakland revelers mixed with the orange and black of San Francisco supporters — many of whom left before the final out.
Chavez (7-5) allowed four hits and two walks to help extend the A's record to a major league-best 56-33. Fernando Abad, Dan Otero and Ryan Cook shut down San Francisco the final three innings.
Ryan Vogelsong (5-6) lost his third straight start for the Giants. The right-hander gave up five hits and three runs in 5 1-3 innings. He struck out four and walked.
"It's a good lineup. You have to make your pitch. I felt like I made some good pitches, just not enough good ones," Vogelsong said.
The banged-up Giants had lost 18 of 23 to fall out of first place in the NL West — where they once held a 9½-game lead over the Dodgers — but showed signs of coming out of their slump by winning two straight at San Diego over the weekend.
Instead, the two-time defending AL West champion A's put together the kind of all-around effort they have had most of the season.
Oakland started its scoring surge after home plate umpire Paul Nauert ruled Craig Gentry was hit by a pitch on his hand leading off the fifth. Bochy challenged the play, which was upheld after a video review.
Gentry stole second, advanced to third on Coco Crisp's bunt single and scored on John Jaso's groundout for the A's first run.
Josh Donaldson was also hit by a pitch by Vogelsong on his left hand leading off the sixth. Nauert originally called it a strike before seeing Donaldson's hand swell.
Then Nauert asked first base umpire Angel Hernandez if Donaldson, who said his hand was just sore afterward, swung at the pitch. Hernandez signaled no, and Bochy came out and had a heated conversation with Nauert after the call, wondering how it could be reversed.
"Then it got ugly," Bochy said.
Callaspo came through later in the inning with a two-run double off Juan Gutierrez to extend Oakland's lead to 3-0. Brandon Moss and Donaldson each drove in a run off Gutierrez in the seventh after Giants shortstop Brandon Crawford committed two throwing errors.
The teams will play in Oakland again Tuesday night before the series shifts to San Francisco for the final two games.
NOTES: Giants 3B Pablo Sandoval, who left Saturday's game because of a bruised left elbow after he was hit while swinging at a pitch, sat out for the second straight game. ... Giants 2B Marco Scutaro (back) went 1 for 3 with an RBI single in his first rehab assignment for Triple-A Fresno on Monday night at Sacramento. ... Giants CF Angel Pagan was sent to Arizona to resume his rehabilitation from a nagging back injury. ... Giants LHP Madison Bumgarner (9-6, 3.09 ERA) takes the mound opposite Oakland's Sonny Gray (8-3, 3.08) on Tuesday.