Giants' Ayers feels he let teammates down after mystery injury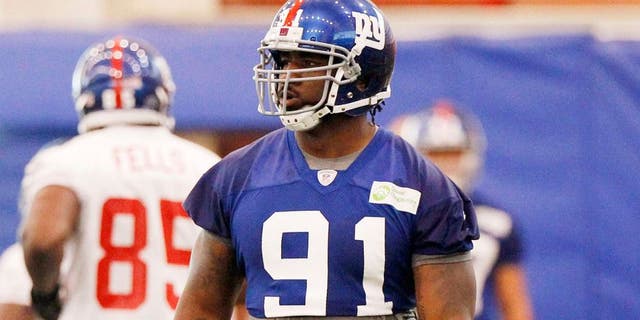 NEWYou can now listen to Fox News articles!
After practicing all week leading up to the New York Giants' third preseason game, starting defensive end Robert Ayers was mysteriously missing from the lineup after kickoff. It was later revealed that he injured his ankle at some point during pre-game warmups. When pressed to speak about the injury on Monday, Ayers was cryptic once again.
Ayers didn't confirm or deny if he would be healed by the start of the regular season, but he did talk about his disappointment in not being able to suit up on Saturday against the Jets.
"[I'm] kind of just frustrated, because it was a big game for us as a team and organization, and especially with the cross-town rival," Ayers said, per Brian Lewis of Newsday. "I definitely wanted to be out there with my guys. Kind of angry. It was an unfortunate situation, a weird situation. I felt like I let my teammates down, especially the D-line.
"I felt like I let them down. I kind of threw them under the bus a little bit with how everything happened. So I feel like with what happened, made things tough on them. I feel bad about that. … I didn't really know what was going on. I didn't really know how it happened or whatever. It is what it is. … [Now] I understand what happened now and I know how to handle it.So that's what we're going to do.''
Ayers skipped Monday's training camp practice. The Giants are counting on big things out of Ayers in 2015. He has worked as the team's starting right defensive end throughout camp. Before the news of Jason Pierre-Paul's injury broke, he was working as the team's starting left defensive end. Ayers was arguably the Giants' most effective pass rusher on a per snap basis in 2014, when you factor in pressures, hits and sacks combined.
(h/t NY Post)