Giannis Antetokounmpo defies gravity while dunking from just inside the free throw line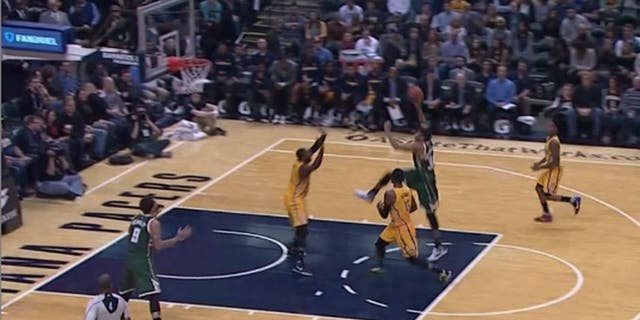 Giannis Antetokounmpo did not get the nickname 'The Greek Freak' for nothing. Standing 6-feet 11, he has a wingspan that seemingly stretches for as far as the eye can see.
And hands that could probably palm and crush a watermelon:
Giannis is simply able to do things that most humans can't. For example: dunking from extreme distances.
During the Milwaukee Bucks' 116-100 victory over the Indiana Pacers on Saturday night, Giannis did just that -- taking one dribble from inside half court, gathering from outside the three-point arc, and sending in a dunk that he launched from just inside the free throw line to make.
Let's take a closer look at it just to embrace the absurdity of the play:
This is the gather point:
This is where he launched:
This is a scene from Space Jam:
Good night.
The Greek Freak somehow, someway continues to outdo himself and by no means is that a complaint.