Get to know the Bucks 2016 summer league team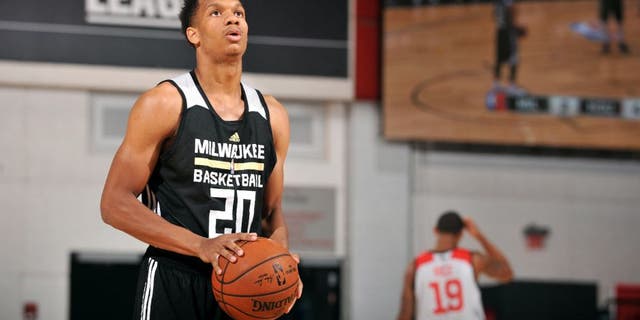 NEWYou can now listen to Fox News articles!
The NBA's Summer League in Las Vegas begins Friday and once again the Milwaukee Bucks are fielding a team.
This year's team will feature Milwaukee's top pick in each of the last two drafts. Most eyes will be Thon Maker, selected No. 10 overall in this year's NBA Draft, however Rashad Vaughn, last year's first-round selection, will be returning to Las Vegas as well as he looks to gain confidence in his shot.
Second-round draft pick Malcolm Brogdon also will be looking to make a name for himself and show off what he can do as he looks to secure a roster spot come training camp.
Here's a quick breakdown of the players on Milwaukee's roster in the NBA Summer League in Las Vegas (in alphabetical order):
JARED BERGGREN, C, 6-foot-10, 235 pounds: The former Wisconsin center has yet to appear in an NBA game (regular season or preseason), but he did play in the Summer League last year for Detroit, averaging 5.2 points, 5.0 rebounds and 1.8 blocks per game, as well as in 2013-14 with Orlando and Cleveland. He has played internationally in Belgium and Italy since leaving the Badgers in 2013.
MALCOLM BROGDON, G, 6-5, 215: Milwaukee selected Brogdon with the No. 36 overall choice in the 2016 NBA Draft. In his senior year at Virginia, Brogdon averaged 18.2 points, 4.3 rebounds and 3.1 assists. He was named both the ACC Player of the Year and Defensive Player of the Year and was a first-team All-ACC selection as a sophomore, junior and senior.
PRINCE IBEH, C, 6-10, 245: A backup for his first three seasons at Texas, Ibeh got a chance this past season to crack the starting lineup due to an injury to Longhorns teammate Cameron Ridley and he made the most of it, being named the Big 12 Defensive Player of the Year and voted a unanimous selection to the Big 12 All-Defensive team. As a senior, Ibeh averaged 4.1 points, 5.0 rebounds and 2.0 blocks per game. He ranked second in the Big 12 with 64 blocks in 2015-16.
RA'SHAD JAMES, G, 6-1, 185: James played at three colleges as well overseas in Korea and Poland before landing with Westchester of the D-League last season, where averaged 16.5 points and 4.3 rebounds. Look out for James in the open court as he participated in the D-League's Slam Dunk contest in both 2014 and 2015. James has Summer League experience with Portland in 2015 and Sacramento in 2014.
THON MAKER, F, 7-1, 216: Milwaukee's first-round pick in this year's NBA Draft is something of an enigma, a big man filled with potential. Maker spent the last two seasons playing for the Athlete Institute Academy in Mono, Ontario. He is the first player to be drafted out of high school since 2005.
LE'BRYAN NASH, F, 6-7, 235: After going undrafted out of Oklahoma State in 2015, Nash played in Japan with the Fukushima Firebonds, where he averaged 26.6 points, 8.1 assists and 3.1 rebounds. In his senior year at Oklahoma State, Nash averaged 17.2 points and 5.7 rebounds as was a second-team All-Big 12 selection.
TERRAN PETTEWAY, F, 6-6, 209: The former Nebraska star played with Fort Wayne in the D-League after going undrafted in 2015. He averaged 11.6 points and 3.5 rebounds for the Mad Ants. Petteway played for Atlanta in both the Summer League and preseason last year.
STEPHEN SIR, F, 6-6, 205: Easily the veteran of the team, Sir turns 34 in September, having graduated from Northern Arizona in 2007. Sir ranks No. 1 in NCAA history in career 3-point percentage (46.9 percent). Since college, Sir has played internationally in Switzerland, Germany, Mexico and Canada, and most recently n Romania.
JOSHUA SMITH, C, 6-10, 350: That is not a misprint: Smith is listed at 350 pounds. After playing at UCLA and Georgetown, Smith was undrafted in 2015. He played for Rio Grande Valley of the D-League last season, averaging 8.5 points and 4.7 rebounds. Smith played for Miami in the Summer League last year and with Houston in the preseason.
JULYAN STONE, G, 6-6, 200: Stone has appeared in 47 games in the NBA with Denver and Toronto from 2011-14. Last season he played in Turkey, averaging 4.4 points and 4.7 rebounds Stone played for Sacramento in last year's Summer League.
TRAVIS TRICE, G, 6-2, 177: The former Michigan State star played for Westchester in the D-League last season, averaging 15.3 points, 5.7 assists and 3.4 rebounds. Trice played for New York in the preseason and for Miami in the Summer League. As a senior with the Spartans, Trice averaged 15.3 points and 5.1 assists.
RASHAD VAUGHN, G, 6-6, 210: Vaughn struggled in his rookie year after being taken with the No. 17 overall selection in the 2015 NBA Draft, averaging just 3.1 points and 1.3 rebounds while shooting just 30.5 percent from the field. Vaughn averaged 17.7 points per game in last year's Summer League.
DEVIN WILLIAMS, F, 6-9, 255: Williams left West Virginia after his junior year but was not selected in this year's draft. Williams averaged 13.3 points and 9.5 rebounds as a junior and was named a second-team All-Big 12 selection. Williams led the Mountaineers in rebounding in each of his three years at the school.
Dave Heller is the author of the upcoming book Ken Williams: A Slugger in Ruth's Shadow as well as Facing Ted Williams Players from the Golden Age of Baseball Recall the Greatest Hitter Who Ever Lived and As Good As It Got: The 1944 St. Louis Browns