Get a grip: Getting ready for playoff chill, Peyton Manning goes with the glove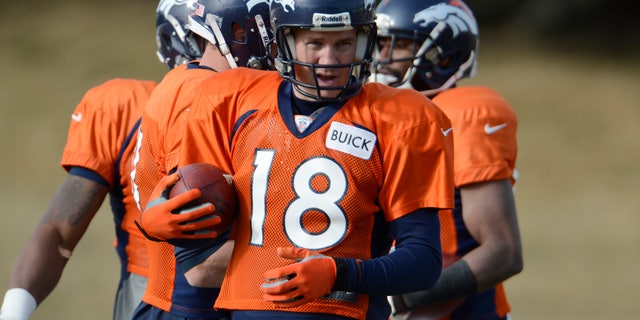 ENGLEWOOD, Colo. – There's a new "Gloved One" — in Denver, at least.
Ripping a page from Michael Jackson's playbook, Peyton Manning has practiced for and played in the last two games with a sticky feeling orange-and-grey glove on his throwing hand, drawing his fair share of curious glances for donning cold-weather gear when the temperatures are in the 50s, as they were Tuesday at practice.
But in getting ready for the playoff push, which could include two games in sometimes-snowy Denver, Manning is leaving no stone unturned. And, as if on cue, a strong arctic storm is expected to roll into Denver on Friday night, bringing snow and bitter cold. The high for Saturday's playoff game against Baltimore is forecast at 20 degrees.