Germaine de Randamie beats Holly Holm to win UFC women's featherweight title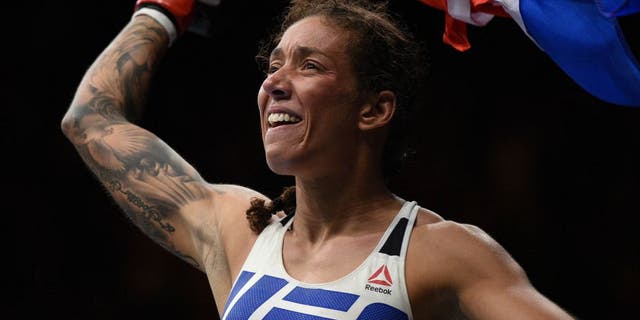 BROOKLYN -- Germaine de Randamie made history on Saturday night as she eked out a close decision victory to defeat Holly Holm and become the first ever UFC women's featherweight champion.
Heading into the night, de Randamie was a slight favorite over Holm, who was walking into UFC 208 off two consecutive losses to Miesha Tate and Valentina Shevchenko at 135 pounds.
The move in divisions gave Holm a chance to get a fresh start, but ultimately she came up short while de Randamie celebrated the biggest win of her career.
Holm was very active throwing combinations in the opening few minutes of the fight, but it was de Randamie who landed the more effective strikes while economically picking her shots.
As Holm would charge forward, de Randamie countered with a series of stiff punches that continued to find a home on the former bantamweight champion's jaw throughout the opening round.
Holm changed her strategy with less than a minute to go while trying to take de Randamie down, but the former kickboxing champion was able to stay upright until the round came to an end.
Holm came out firing again in round two but she still seemed to struggle to find a home for most of her strikes as she came up short for most, if not all of her punches and kicks.
As hard charging as Holm was with her attacks, de Randamie was able to time and counter her shots in return, which were far fewer but with much better accuracy.
As time ticked away, Holm decided to once again look for the clinch and the takedown but neither were successful. Just when the fighters separated before the horn, de Randamie uncorked a pair of punches -- the second of which landed flush and seemed to rock Holm after the horn had already sounded.
The third round saw more desperate attempts from Holm to get the fight to the ground, which de Randamie countered again with solid takedown defense before slamming home a big straight punch after the two fighters separated.
Towards the end of the round, Holm landed her best strike of the fight as she cracked de Randamie with a beautifully timed head kick that dropped her for a moment before she got back to her feet.
De Randamie came back with one final flurry as the round ended but once again appeared to land punches after the horn sounded as the referee was late getting in between the fighters.
"It was an accident to hit her after the bell, it was never intentional," de Randamie said after the fight. "It was just the heat of the moment. I am not that kind of fighter."
The fourth round saw both fighters land a few solid strikes with neither Holm or de Randamie really gunning to win the exchanges, but instead just landing one or two solid shots a piece.
It was clearly a very close contest going into the final five minutes with Holm still acting as the aggressor but once again struggling with her accuracy while trying to do damage from the outside.
Holm then reverted back to the clinch game, which ultimately resulted in the referee separating the fighters late in the fight. Undeterred, Holm once again pressed de Randamie against the cage almost immediately after the bout was restarted in the center of the Octagon.
The Brooklyn crowd was none too happy with the strategy as they let the fighters hear it as the final seconds ticked away in the first ever women's featherweight title fight in UFC history.
After five rounds, the judges all returned the same scores -- 48-47 in favor of de Randamie, who was crowned the new women's featherweight champion.
While de Randamie paid Holm credit as a 'tremendous champion', she criticized her for not engaging more over the 25-minute fight. In the end it didn't matter as de Randamie still got the win and now moves forward as the UFC women's featherweight champion.
"It was close," de Randamie said after the fight was over. "She didn't want to fight me but I am a warrior and I came here to fight."
Afterwards, de Randamie also revealed that she's headed for hand surgery to repair ligament damage suffered in a previous fight in the UFC, but welcomed a challenge from Cris "Cyborg" Justino in the future. Cyborg has reigned supreme atop the women's featherweight division for years but she's currently under a provisional suspension after testing positive for a banned substance just recently.
When she returns, Cyborg will undoubtedly become the No. 1 contender and by far the biggest threat to de Randamie's title reign.
As for Holm, she has now dropped three fights in a row after her monumental win over Ronda Rousey last year. It's been an incredibly tough run for Holm, who appeared poised for stardom following the knockout over Rousey only to face three defeats in a row including two losses in UFC title fights.