Georgia unveils their first depth chart of the season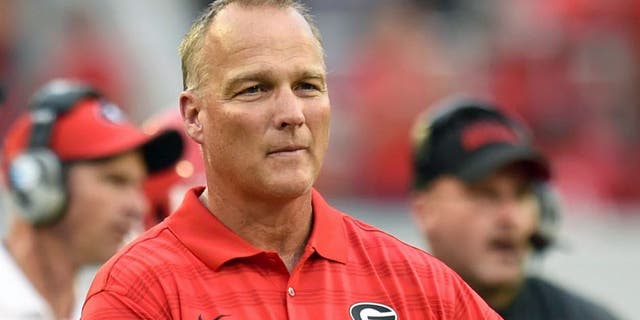 NEWYou can now listen to Fox News articles!
With the big announcement of naming Greyson Lambert the starting quarterback Monday, Georgia released the rest of the depth chart Tuesday.
As the season kicks off Saturday against Louisiana-Monroe, expect to see a number of freshmen take the field. Especially on defense where the two-deep features a number of true freshmen including Rico McGraw, Trent Thompson, Jonathan Abram and DaQuan Hawkins.
Offense:
WR X 26 Malcolm Mitchell (6-1, 195, Sr.) / 82 Michael Chigbu (6-2, 216, Fr.)
LT 71 John Theus (6-6, 303, Sr.) / 70 Aulden Bynum (6-5, 268, RSo.)
LG 77 Isaiah Wynn (6-2, 278, So.) / 55 Dyshon Sims (6-4, 293, So.)
C 54 Brandon Kublanow (6-3, 282, Jr.) / 66 Hunter Long (6-4, 303, Sr.)
RG 73 Greg Pyke (6-6, 313, Jr.) / 53 Lamont Gaillard (6-2, 298, RFr.)
RT 75 Kolton Houston (6-5, 285, Grad.) / 65 Kendall Baker (6-6, 310, RFr.)
TE 83 Jeb Blazevich (6-5, 248, So.) / 87 Jay Rome (6-6, 250, Grad.)
QB 11 Greyson Lambert (6-5 220, Grad.) / 10 Faton Bauta (6-3, 215, Grad.) OR 12 Brice Ramsey (6-3, 213, RSo.)
TB 27 Nick Chubb (5-10, 220, So.) / 1 Sony Michel (5-11, 212, So.) / 4 Keith Marshall (5-11, 212, Jr.) OR 22 Brendan Douglas (5-11, 215, Jr.)
FB 41 Christian Payne (6-1, 232, So.) / 48 Quayvon Hicks (6-2, 251, Sr.)
WR F 16 Isaiah McKenzie (5-8, 170, So.) / 15 Terry Godwin (5-11, 174, Fr.)
WR Z 81 Reggie Davis (6-0, 170, Jr.) / 2 Jayson Stanley (6-2, 204, Fr.)
Defense:
DT 97 John Atkins (6-4, 300, RSo.) / 89 James DeLoach (6-3, 284, Sr.) OR 78 Trenton Thompson (6-4, 307, Fr.)
N 93 Chris Mayes (6-4, 323, Sr.) / 97 John Atkins (6-4, 300, RSo.) OR 96 DaQuan Hawkins (6-4, 302, Fr.)
DE 91 Josh Dawson (6-4, 273, Sr.) OR 58 Sterling Bailey (6-3, 282, Grad.)
SAM 84 Leonard Floyd (6-4, 231, Jr.) OR 7 Lorenzo Carter (6-6, 242, So.)
JACK 59 Jordan Jenkins (6-3, 253, Sr.) / 17 Davin Bellamy (6-5, 241, RSo.)
MIKE 45 Reggie Carter (6-1, 228, Jr.) OR 51 Jake Ganus (6-2, 227, Sr.)
WILL 42 Tim Kimbrough (6-0, 226, Jr.) OR 84 Leonard Floyd (6-4, 231, Jr.)
BC 35 Aaron Davis (6-1, 190, RSo.) / 12 Juwuan Briscoe (5-11, 193, Fr.)
LC 14 Malkom Parrish (5-10, 188, So.) OR 36 Rico McGraw (6-0, 192, Fr.)
LS 20 Quincy Mauger (6-0, 200, Jr.) / 30 Jonathan Abram (6-1, 200, Fr.)
RS 24 Dominick Sanders (6-0, 189, So.) / 19 Jarvis Wilson (6-2, 190, Fr.)
Special Teams:
P 32 Collin Barber (6-2, 208, Sr.) / 97 Will Cowart (6-3, 164, RFr.)
K 13 Marshall Morgan (6-3, 194, Sr.) / 32 Collin Barber (6-2, 208, Sr.)