Georgia QB Aaron Murray breaks David Greene's SEC record for career yards passing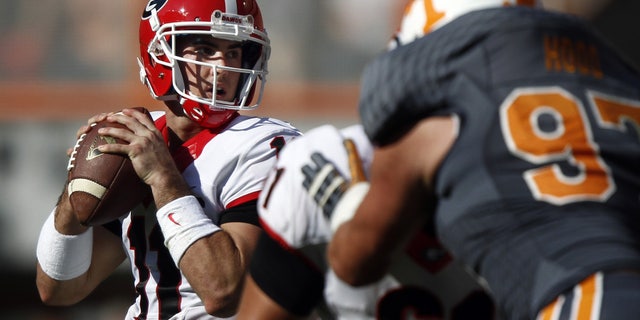 KNOXVILLE, Tenn. – Georgia's Aaron Murray is the new Southeastern Conference record holder for career yards passing.
Murray's 24-yard completion to Chris Conley on a fourth-and-4 play from the Tennessee 39-yard line in in the second quarter Saturday gave him 11,538 career yards passing. Murray capped the drive with a 4-yard touchdown pass to Rantavious Wooten that increased his career total to 11,542 and gave the sixth-ranked Bulldogs a 17-3 lead.
The SEC record was previously held by David Greene, who threw for 11,528 yards while at Georgia from 2001-04.
Murray, a senior, also is within reach of the SEC record for career touchdown passes. Murray's two touchdown passes in the first 25 minutes of Saturday's game improved his career total to 108. Danny Wuerffel threw 114 touchdown passes at Florida from 1993-96.