Georges St-Pierre: Conor McGregor is 'going to lose' to Floyd Mayweather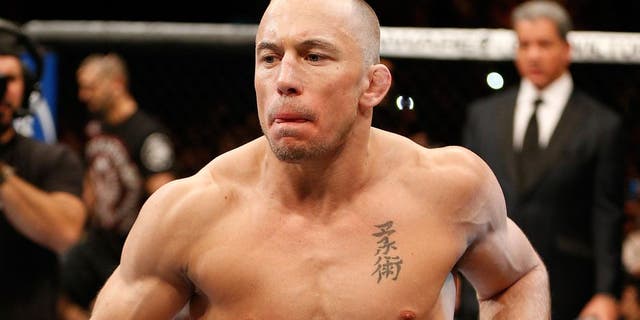 NEWYou can now listen to Fox News articles!
Conor McGregor loves nothing more than proving doubters wrong and he can add former welterweight champion Georges St-Pierre to the list of people who aren't giving him much of a chance in a boxing match with Floyd Mayweather.
The proposed fight has been talked about for the past year but now negotiations are ongoing to put McGregor into the ring with Mayweather, who retired in 2015 with a perfect 49-0 record while widely being considered one of the best boxers of all time.
McGregor has never competed in a pro boxing match so clearly he's fighting an up hill battle, but he's stated numerous times that he plans to shock the world when he finally gets his opportunity to face Mayweather in the ring.
Unfortunately, it doesnt appear St-Pierre is ready to buy that hype that McGregor has a realistic shot of handing Mayweather his first professional loss.
"He's going to lose. I'm pretty sure he's going to lose if it happens," St-Pierre said in a recent interview with RT Sport. "The odds are not in his favor. But I think if he manages to survive, it could be like a win for him because after he's going to start talking 'I stepped into your game, why don't you step into mine now?'.
"It depends on not only the result of how it's done. It all depends on how things play out."
As much as the fight seemed like a pipe dream when rumors first surfaced more than a year ago, now UFC president Dana White has gone as far as saying he's ready to sit down with Mayweather's team to hammer out a deal so the bout can happen.
McGregor is currently awaiting the birth of his first child later this month or in early May but then it appears his focus will solely turn towards preparation for the Mayweather fight.
St-Pierre may not like McGregor's chances against Mayweather but just like the UFC boss, he's now convinced that the matchup will actually take place.
"I think it will happen," St-Pierre said. "I know Floyd will never fight Conor in a mixed martial arts fight, but Conor could fight Floyd in a boxing match. I don't think he's going to win. I do not think he's going to win at all but he wants to do it.
"It's going to make a lot of money out of it."