George, McMillan earn Eastern Conference honors for April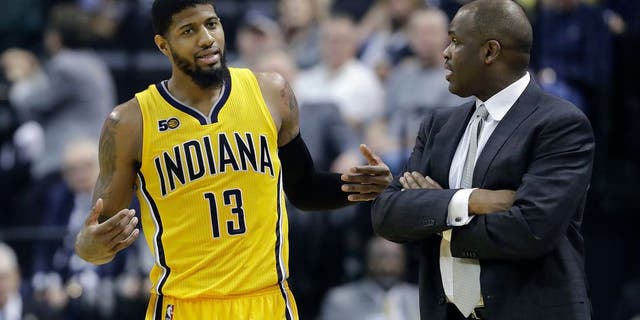 NEWYou can now listen to Fox News articles!
The Indiana Pacers were hot in April, winning five in a row after losing their first game of the month in double overtime at Cleveland.So it's no surprise that their best player and head coach have been honored for their work in games played in April.
Forward Paul George was named Eastern Conference Player of the Month and Nate McMillan was tabbed the conference's Coach of the Month.
George averaged an NBA-high 32.8 points per game and added 8.2 rebounds and 4.5 assists during Indiana's April surge, which culminated in a playoff spot for the sixth time in seven seasons. He scored at least 30 points in four of six games, including a season-high 43 points in that double-overtime loss to the Cavaliers on April 2.
McMillan directed the Pacers to a5-1 mark in April,tied for the best in the Eastern Conference, and the No. 7 playoff seed in the East. Forthe month, the Pacers ranked third in the NBA in scoring (115.5 points per game) and fourth in field-goal percentage (50.1) and point differential (plus 11.7).
The Pacers open their first-round playoff series at Cleveland on Saturday.