Geno Smith finally commits first turnover of camp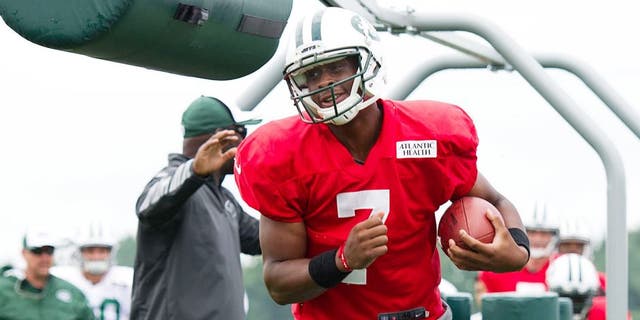 NEWYou can now listen to Fox News articles!
Across all 32 training camps, one number stands out from the rest, and it comes from the New York Jets. Until Tuesday's practice, Geno Smith had yet to commit a turnover in team drills. Unfortunately, that streak ended when he committed a fumble, but he has yet to throw an interception. Heck, even Tom Brady has thrown a pick.
Even with the turnover, Smith and head coach Todd Bowles aren't looking too much into it.
"It was just a bad decision," Bowles said via Metro New York. "It was his first turnover of camp. You don't blow that out proportion. You talk about it, you recognize it. At the end of the game, you have to let the ball fly. You can't hold onto it."
Smith, who's been a turnover machine for the Jets, has been solid in camp, but his lack of interceptions has to be put into perspective. It's just training camp. It's not the preseason. It's not the regular season. It's practice. And Bowles has already pumped the brakes on the Smith train, calling him just "fine" in practice.
"It's been fine up until this standpoint," Bowles said. "You don't know about live bullets, you got to learn how to slide. Some of those quarterbacks get cocky and try to make the yards and get blown-up. Up until this standpoint he's been fine."
(h/t Metro New York)