Gaudreau's 'Johnny B. Goode' of hockey, but he doesn't know Chuck Berry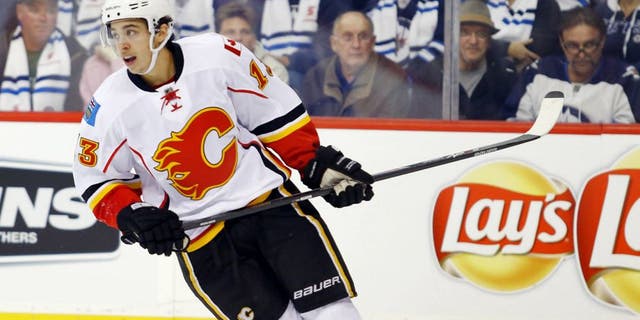 Star forward Johnny Gaudreau has been making some sweet music for the Calgary Flames this season.
In fact, Gaudreau revels in hearing the 1958 classic "Johnny B. Goode" echo throughout the Scotiabank Saddledome every time he scores a goal. But when informed that the catchy tune that bears his name was sung by the legendary Chuck Berry, the 22-year-old Gaudreau admittedly drew a blank.
Via The Calgary Sun:
Gaudreau certainly has been playing hockey this season "just like a ringing a bell," collecting team highs in goals (17), assists (22) and points (39).
Named the NHL's First Star of the Week on Monday, Gaudreau has scored 15 of those goals and set up seven others during the team's franchise-best 11-game home winning streak. That stretch came to an end with a 1-0 setback to the Anaheim Ducks on Tuesday, marking Calgary's first loss on home ice since Oct. 30.