Garage chatter: What's the news?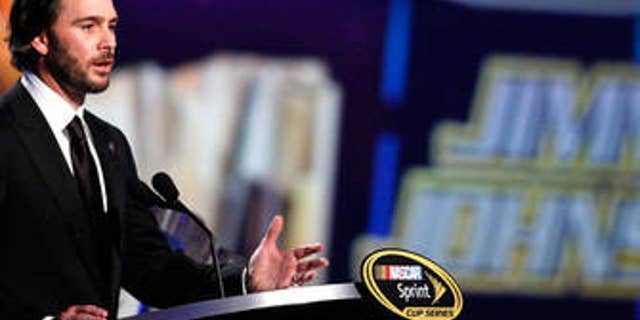 Dec. 7 news and notes Hornaday lands new crew chief -- 9 a.m. ET Four-time NASCAR Camping World Truck Series champion Ron Hornaday has a new crew chief.
Kevin Harvick Inc. has announced that Jeff Hensley will take over the helm of Hornaday's No. 33 Chevrolet team. Hensley most recently worked at Red Horse Racing.
"We are proud to welcome Jeff to KHI and to be able to pair him with Ron Hornaday," KHI co-owner Kevin Harvick said in a news release. "Jeff brings with him a wealth of experience and knowledge which we think will be beneficial to not only the No. 33 team and Ron but the organization as a whole."
Hensley, 48, has more than 30 years of racing experience. He began competing at various Virginia and North Carolina short tracks at the age of 18. In 1985, he became crew chief for his family-owned team Hensley Motorsports. With driver Chuck Bown, Hensley captured the 1990 NASCAR Nationwide Series championship.
"I am thrilled to be a part of KHI and really excited to get to work," Hensley said. "Ron is a tough competitor and we have a record fifth career championship that we are focused on for 2011."
Johanna Long wins prestigious Snowball Derby -- 8:45 a.m. ET Johanna Long won this weekend's 43rd annual Snowball Derby in Pensacola, Fla., becoming just the second woman to capture the event - and the youngest female winner in its history.
The Super Late Model event features racing competitors from a slate of series. Long ran near the front all day before taking the late lead in the race, according to a posting on her website.
Long made her NASCAR debut this season, running a part-time NASCAR Camping World Truck Series schedule for team owner Billy Ballew.
Dec. 6 news and notes NASCAR Hall announces 2011 induction ceremony date -- 3 p.m. ET NASCAR officials announced that the 2011 Induction Ceremony for the second Hall of Fame class will be held May 23 at the Charlotte Convention Center Crown Ballroom.
Bobby Allison, Ned Jarrett, Bud Moore, David Pearson and Lee Petty will be inducted. They join the first class of Dale Earnhardt, Bill France Sr., Bill France Jr., Junior Johnson and Richard Petty in the Charlotte, N.C., Hall of Fame, which is connected to the convention center.
The ceremony is open to the public. Tickets will be available on a first-come, first-serve basis. Interested fans should visit NASCARHall.com for more details on upcoming appearances, ceremony details and the Induction Dinner on May 18.
"The 2011 class contains some of the most iconic names in our sport's rich history," NASCAR Chairman and CEO Brian France said. "The 2011 Induction will be a very special ceremony and we look forward to honoring these five NASCAR legends in front of their friends, family and fans."
Allison won the 1983 Cup championship and earned 84 career wins during his career, tied for third on the all-time list. Jarrett was a two-time NASCAR champion (1961 and 1965) and two-time Sportsman Division champion (1957 and '58) who earned 50 career wins before moving into the role of broadcaster. Moore, a decorated World War II infantryman, was team owner who won back-to-back championships in 1962-63 and was crew chief for champion Buck Baker in 1957. Pearson is a three-time NASCAR champion (1966, '68 and '69) with 105 career Cup wins, second on the all-time list. Petty was the sport's first three-time series champion (1954, '58 and '59) and winner of the first Daytona 500 who went on to snare 54 career victories.
Sprint Cup contingency awards wrap up season -- Noon ET NASCAR Sprint Cup Champions Week included more than just awards honoring the top-12 drivers of the season.
It also included a slate of contingency awards for top drivers, crew chiefs and crews in a variety of areas.
During the National Motorsports Press Association Myers Brothers Luncheon, the final group of season-ending awards for various programs were announced.
Chief among those was the NMPA Myers Brothers Award, given to former NASCAR Vice President of Corporate Communications Jim Hunter, who passed away in October at the age of 71 after years of working in the industry. Dale Earnhardt Jr. was also honored as he was voted the sport's Most Popular Driver award winner for the eighth consecutive time.
Here's a look at the contingency awards in the Cup series:
Buddy Shuman Award: Dr. Joseph Mattioli NASCAR Foundation's Track of the Year Award: Daytona International Speedway NASCAR Marketing Achievement Award: Nationwide Insurance NASCAR Home Depot Humanitarian Award: Tony Stewart NMPA Myers Brothers Award: Jim Hunter Hamburger Helper Most Popular Driver Award: Dale Earnhardt Jr. Coors Light Pole Award: Jamie McMurray DirecTV Crew Chief of the Year Award: Gil Martin (crew chief for Kevin Harvick) Goodyear Gatorback Belts Fastest Lap Award: Jimmie Johnson Goodyear Tires Award: Jimmie Johnson Mahle Clevite Engine Builder of the Year Award: Earl Wheeler, Hendrick Motorsports (engine builder for Jimmie Johnson) Mechanix Wear Most Valuable Pit Crew of the Year: No. 11, Joe Gibbs Racing Mobil 1 "Command Performance Driver of the Year" Award: Kurt Busch Moog Chassis Parts Problem Solver of the Year Award: Gil Martin (crew chief for Kevin Harvick) O'Reilly Auto Parts Position Improvement Award: Kevin Harvick Raybestos Rookie of the Year Award: Kevin Conway Sunoco Diamond Performance Award: Jimmie Johnson Tissot "Pit Road Precision" Award: No. 17, Roush Fenway Racing WIX Filters Lap Leader Award: Denny Hamlin Championship Sponsor Award: Lowe's Champion Crew Chief Award: Chad Knaus