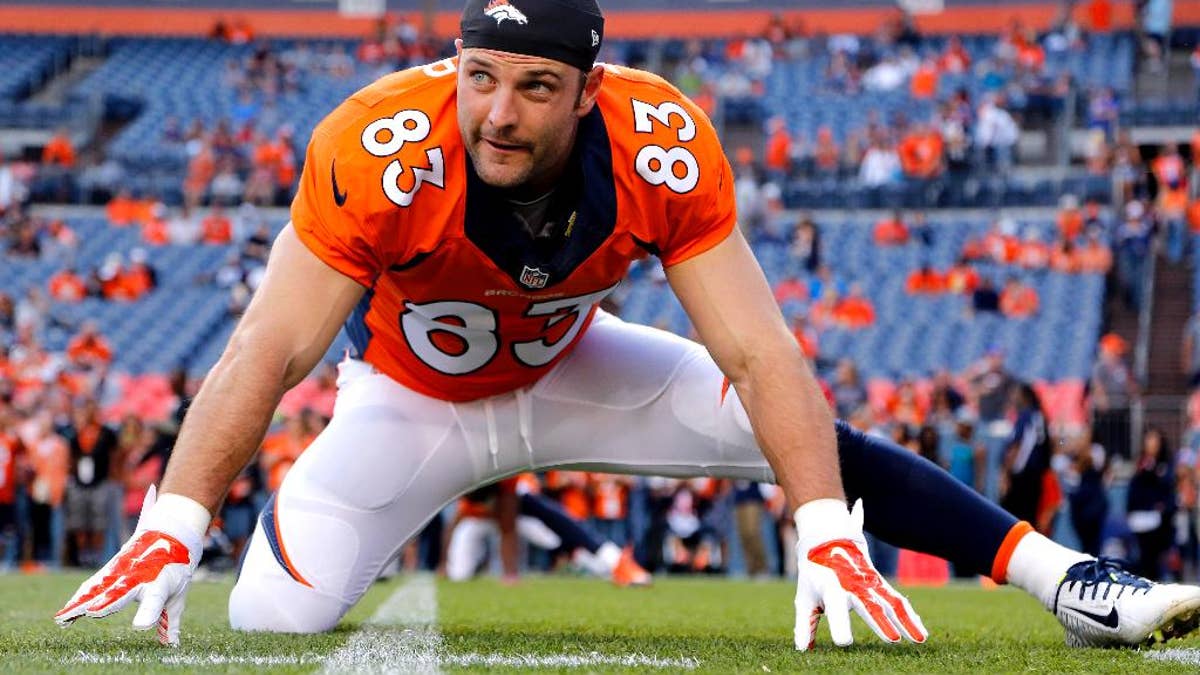 DENVER – The last time he faced his former team, Peyton Manning's emotions and the Indianapolis Colts both got the best of him.
Manning shouldn't be nearly as drained or distracted when the Colts visit Denver this weekend.
Jim Irsay isn't getting under his skin with talk about how disappointed he was to win just one ring with Manning. And the five-time MVP doesn't have to trouble himself with a pregame tribute — or Robert Mathis, for that matter.
"Well, I think it was different last year going back to Indianapolis," Manning said coolly.
In speaking with reporters in both Denver and Indianapolis during the week, Manning didn't elaborate on what it will be like facing his old team again. Instead, he segued right into what an honor it is to play in prime time.
"They don't pick bad teams to open up 'NBC Sunday Night Football,' " Manning said. "They're not paying all that money to the NFL to put bad teams on."
No, but they did pick two teams that are dealing with lots of drama.
Injuries have turned the Colts' O-line into a turnstile. Indy is without Mathis, the league's sacks leader last year with 19 1-2, including two of Manning. Mathis was suspended for the first four games for violating the league's performance enhancing drug policy.
"He's in my opinion the best pass rusher in the NFL, and on top of that, a great leader, great teammate, great person," Andrew Luck said.
The Broncos have two prominent players serving four-game banishments: receiver Wes Welker and Pro Bowl kicker Matt Prater, who combined to score 210 points last season.
Prater violated the NFL's substance abuse policy by drinking alcohol in the offseason, forbidden since his 2011 DUI arrest, and Welker reportedly tested positive for amphetamine use in violation of the league's rules forbidding performance-enhancing drugs.
Welker has been the game's top slot receiver for a decade and Prater was the league's top kicker last year when he made all but one of his 26 field goal attempts, including a record-breaking 64-yarder. He also led the league by a wide margin with 81 touchbacks.
Novice Brandon McManus replaces Prater and the Broncos will likely make up for Welker's absence with a healthy dose of speedy receiver Emmanuel Sanders and backup tight end Jacob Tamme, who restructured his contract Thursday, in the slot. Demaryius Thomas and Cody Latimer can also move inside, with Bubba Caldwell running sideline routes.
"Of course we're going to miss him," Sanders said. "He's Wes Welker."
If any team is built to weather a loss such as Welker's, however, it's the Broncos.
"We've got great respect for Wes," Colts coach Chuck Pagano said. "But they've got enough weapons for Peyton."
Keep an eye on these other subplots Sunday night:
SNAP DECISONS: If Khaled Holmes isn't ready, A.Q. Shipley could start against Denver a week after the Colts claimed the center off waivers from Baltimore.
Holmes returned to practice Wednesday for the first time since spraining his left ankle in the preseason opener. Backup Jonotthan Harrison also practiced after missing all of last week with a right thumb injury.
Left guard Jack Mewhort, promoted to starter when Donald Thomas tore his right quadriceps in training camp, has been dealing with a sore right knee. And two of the Colts' most versatile backups, Xavier Nixon (knee) and Joe Reitz (ankle), also are hurt.
"It does keep happening like a horror movie almost," Luck said.
GETTING DEFENSIVE: After coming up one win short last season, Broncos GM John Elway spent more than $100 million on a defensive makeover that includes free agents DeMarcus Ware, T.J. Ward and Aqib Talib.
Plus, Von Miller, Derek Wolfe, Chris Harris Jr., Rahim Moore and Quinton Carter have returned from injuries that sidelined them at the Super Bowl.
"Despite all our offensive productivity and how special our offense is, this town loves our team to play great defense," said coordinator Jack Del Rio. "And I look forward to us bringing back some of that 'Orange Crush' feel."
Even if they create their own identity on defense, they'll always ride shotgun to Manning, suggested nose tackle Terrance Knighton.
"With his resume, it really doesn't matter how good you are on defense," Knighton said. "It's always going to be about Peyton and that offense putting up NFL records on points and yards. We just want to get off the field, get a rhythm going and feed off of them."
GETTING DEFENSIVE II: In Miller and Ware, the Broncos have one of the game's premier pass-rushing duos.
Ware was cut in a salary cap move by the Dallas Cowboys, where he was the franchise leader in sacks. He's teaming up with Miller, who's coming off a trying year that began with a six-game drug suspension and ended with a torn ACL.
Ware is also coming back from an injury-riddled season. Like Miller, he looks primed for a big year.
"He doesn't look like a man that should have been cut," Colts tight end Dwayne Allen said. "... He's playing at an incredibly high level: very active hands, very active feet, destroys tight ends."
GETTING DEFENSIVE III: The Broncos are smarting over the timing of Welker's suspension, which came down Tuesday night after the Broncos had drawn up their blueprints for the Colts.
"I'm sure not sure they really care what I think, but sure, I would like to know maybe before we pick our roster," coach John Fox said. "Look, we're disappointed in Wes and we respect the league's ruling on suspensions. It happens to a lot of people. But I would have liked a little different kind of timing, but ... we're moving on."
GROUND GAMES: Both teams seek better balance on offense. Second-year bruiser Montee Ball leads a group of running backs in Denver that's never started an NFL game, and the Colts are counting on Trent Richardson to have a bounce-back year.
"I think people are really going to enjoy watching him," Luck said. "I think he feels a lot more comfortable with everything."
___
AP NFL website: www.pro32.ap.org and www.twitter.com/AP_NFL