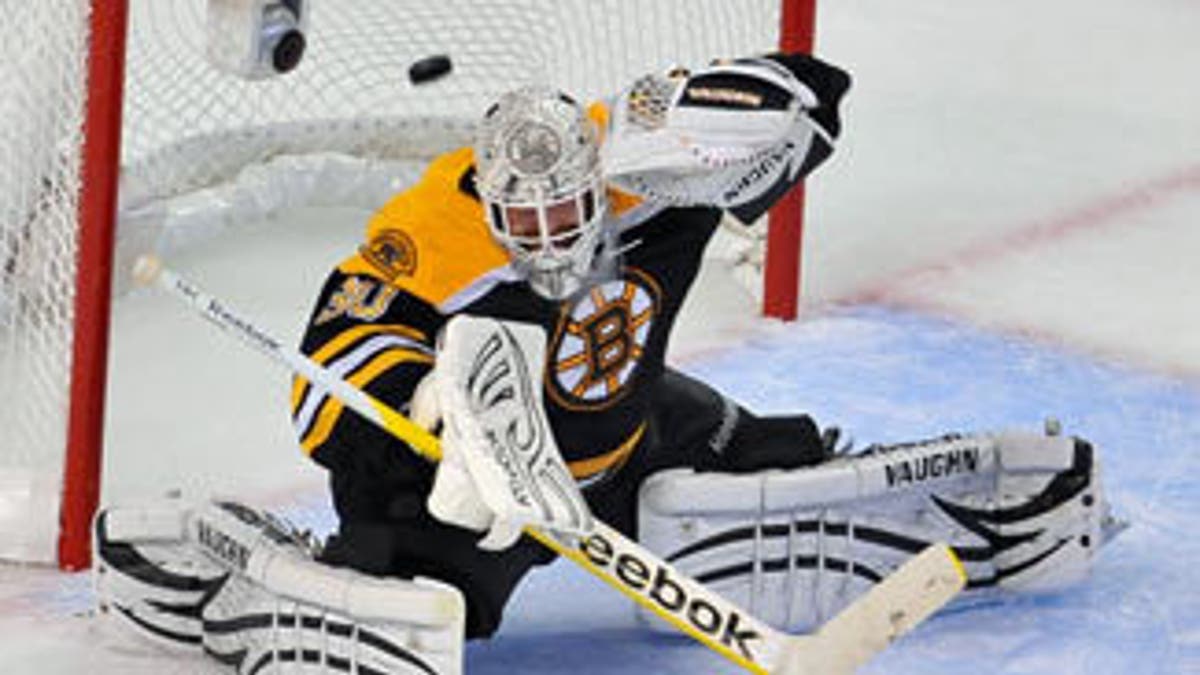 BOSTON -- Goalie Tim Thomas was a huge reason the Boston Bruins are advancing to the second round of the Stanley Cup Playoffs.
The Bruins finished off a seven-game marathon by beating Montreal 4-3 in overtime Wednesday night at the TD Garden, a game in which Thomas made 34 saves, including five in the overtime session.
How good was Thomas in this series. There were three OT games and Thomas won all of them. His save against Brian Gionta on a 2-on-1 early in the second overtime of Game 5 here might have changed the whole tide of the series.
For the series, he stopped 212 of 229 shots, a save percentage of .925. His goals-against average was also a respectable 2.25.
After eliminating the Canadiens. Thomas talked about the Game 7 win and the series against Montreal as a whole, as well as a brief look ahead to the next round against Philadelphia.
Q: How did it feel to win Game 7 after the recent history the Bruins have in Game 7?
A: Every Game 7 is different. Every year the teams are different, there is a bit different makeup. Chris Kelly has probably been in different Game 7s with Ottawa. I think his experience showed this series. He was one of our best players. We weren't thinking about that at all. We were just battling, just trying to win.
Q: Talk about the up-and-down nature of the game?
A: The whole series, right? That was the tightest series I've even been a part of. It has to be one of the tightest series I've ever heard of statistically. It was back and forth. Both teams showed a ton of character and a ton of heart. It definitely is nice to be the one that came out on top.
Q: What was the difference tonight compared to other Game 7s?
A: I don't know, just the bounce in Game 7 went our way. Nathan Horton scored two overtime goals for us. Tonight, I think it must have hit something on the way in, correct? We got that bounce instead of the other teams. I don't know what else to say.
Q: Has playing Philadelphia in the next round crossed your mind?
A: Well a little bit because we found out the series starts Saturday; but there hasn't been a changeover, at least in my mind, yet to preparing for that. I think a night like tonight, I deserve at least until midnight to revel in it.
Q: Was this bigger than just another Game 7?
A: Everyone knows Montreal is our biggest rivalry – Game 7, overtime. To be the one who came out on top, , it's pretty incredible to be a part of. If I would have said I knew we were going to win, I'd be lying. I knew we had the potential to win, but it could have gone either way the way that they just kept battling back. That's what overtime is all about. I think I have a few more gray hairs in my beard over here.
Q: What went through your mind when Horton scored?
A: The first reaction was there is not going to be a video review is there? It didn't go off his skate; nobody interfered with the goalie, right? And then when I didn't see any reaction from the refs, that's when I left the crease. It's overtime in Game 7; I was conserving energy in case it got called back.
Q: What did you say to Montreal goalie Carey Price after the game?
A: Great job, great series, great season. He had a wonderful year, he played a ton of games and it didn't seem to affect him here in this playoff series. There were lots of opportunities for him to crack and he never cracked.