Game 1 didn't tarnish James -- it simply presented him with an opportunity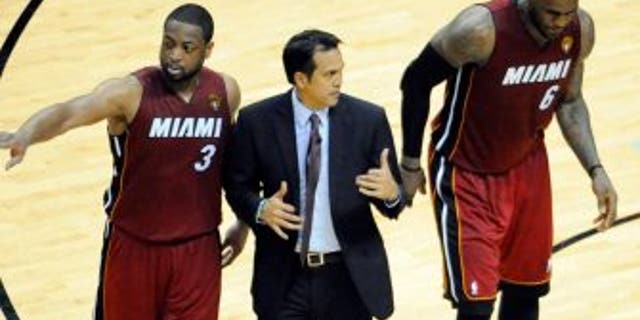 SAN ANTONIO – It almost seemed prophetic, what Erik Spoelstra said before Game 1 of the NBA Finals. Before the cramps. Before the hate and the lurid joy directed toward LeBron James returned so suddenly and surprisingly. Before The Finals – at least what we've seen of them so far – turned into some bizarre commentary on how a man whose body seized up in stifling pain should have, you know, just dealt with it.
Before people who thought LeBron missing the end of that game with cramps was proof he can't forge a legacy like Michael Jordan missed it altogether.
So there was Spoelstra, the Miami Heat's coach, sounding weirdly sagacious:
"A lot of things have to go in your favor," he said. "You have to have a good group. You have to have talent. You have to have trust that's earned through adversity, going through good times and bad times, but you also have to have some good bounces and things have to go your way. And our team is mature enough to understand that, to have perspective and to feel fortunate for this opportunity."
The good bounces thing is what struck me. The fact Spoelstra, even then, after all the winning the Heat have done the past few years, understood the value of luck, of chance, and of fate. And that maybe they'd had a lot of their own share of all three.
That, even with the best player on earth, the universe will sometimes do what it does.
Which is just what it did. We know the rest: LeBron cramping with the Heat up in the fourth quarter, LeBron sitting, the Spurs roaring back to life and then all the madness that has always surrounded him.
I covered LeBron when he first went to Miami, when the Big Three era was born, and I was, to say the least, not exactly a supporter. So I'm cool with criticism. I get it. I personally think the guy's changed, but, hell, it's sports. Root, cheer, boo, wish for or against one guy or another to win or lose, fail or succeed, be a hero or the goat. Cool.
But embracing an legitimate injury caused by some freak accident and then pretending it's proof positive the dude can't play? To jeer and mock, as they did at the AT&T Center as he limped out that last time, even though those jeering were dripping from the same sweat and coated with the same oppressive heat that had contributed to LeBron's injury? To applaud as the broadcast confirms LeBron James is out and probably staying out, as they did at a full restaurant near the Staples Center back in Los Angeles? As they did, apparently, in a lot of places?
Ridiculous.
But that's not the dumbest part. The real stupidity came out in full force then, as so many of us tried to compare LeBron's failure to play with a leg cramp to Jordan's flu game.
A few facts:
1. It was excruciatingly hot in that arena, and a guy with a history of cramping and with so little body fat is apt to be more vulnerable to that unacceptable, burning heat.
2. Playing with the flu isn't the same thing as battling cramps that debilitate you. My podcast partner, Andy Roddick, once cramped up so badly in New York City he fell to the ground in front of his hotel as people walked by and watched him suffer.
3. LeBron, who as we now know was nearly immobile, came into the game and willed himself to score one last time. Then his body said, "Hell no," and that was that. That's not weakness. That's not a lack of willpower in the face of a physical shutdown.
You want to go after LeBron? Fine. I get it. Wait for when he passes at the end of an elimination game instead of attacking the rim. Point back to The Decision, if you must. See what he does as a possible free agent this summer. Or just be patient enough to find out whether the Spurs end up beating him this time around.
But don't mistake Game 1 for some sign he can't be Jordan. That's not what this was. This was a chance to forge his own legacy moment spoiled by fate.
Spoelstra was right. Luck matters. Things do have to go your way, the ball does have to bounce where you need it. For LeBron, luck wasn't a lady Thursday night. It was an adversary. Fate reached up, seized his body, and pulled him out of a game he was starting to take over and the Heat seemed poised to win.
Game 1 wasn't LeBron James failing his team. It was luck, as capricious as it can be, abandoning the Heat.
What LeBron has here is a chance to win a Finals despite the fact that bad luck spotted the San Antonio Spurs – one of the greatest teams ever, led by one of the NBA's all-time best coaches in Gregg Popovich and all-time best players in Tim Duncan – a one-game lead.
Think of that. Spurs 1, Heat 0, because the best player in the world had a cramp for the fourth time in his postseason career – one rendering him unplayable because there was no air conditioning at an NBA Finals game.
That's not his fault. But in his misfortune there is an opportunity.
If the Heat come back and win this series, we should remember LeBron not as the guy who couldn't play at the beginning of it. We should remember him as the star player who won it again despite having to cede one game of a seven-game series to a team too dangerous and great to be gifted anything.
Bill Reiter is a national columnist for FOXSports.com, a national radio host at Fox Sports Radio and regularly appears on FOX Sports 1. You can follow him on Twitter or email him at foxsportsreiter@gmail.com.