Gallardo wins 100th, Rangers get much-needed win vs. Blue Jays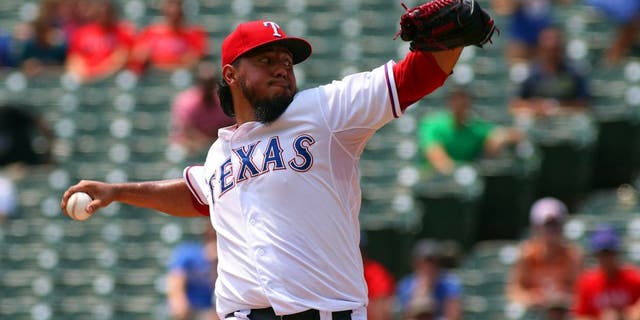 ARLINGTON, Texas -- The Rangers finally got a complete effort Thursday to avoid getting swept by the mighty Blue Jays.
Skillful pitching, opportunistic offense and a spectacular defensive play com-bined for a 4-1 victory over AL East-leading Toronto and its potent lineup.
The Blue Jays took the first two games of the series, including a 12-4 romp the night before. On Thursday, the Rangers managed to hold a one-run lead for most of game, after blowing a late lead in the series opener on Tuesday.
"We feel like we're also in that group that everybody wants to talk about of elite teams," Rangers manager Jeff Banister said. "This is a group of guys that feel that way about themselves, it's how they compete every day. They had their backs against the wall today and came out with no doubt in my mind and their mind that they were going to play well and put a foot down and make a statement for themselves."
That statement was made mostly with pitching. Starter Yovani Gallardo negotiated through Toronto lineup for five-and-a-third innings without giving up a run. The bullpen allowed just one run the rest of the way for Gallardo to record his 100th career win, an achievement his teammates celebrated in the clubhouse after-wards.
Closer Shawn Tolleson earned his 26th save, two days after suffering through just his second blown save opportunity. Keone Kela and Sam Dyson worked out of jams to keep the Rangers in position to win.
"Efficient and effective and maneuvering," is how Banister described his pitching staff's performance. "I think Yovani maneuvered his way around the lineup with a one-run lead, never gave in. I felt like he was in control of the at-bats."
Blue Jays right fielder Jose Bautista lost control of a Delino DeShields hit, al-lowing the ball to get past him to the wall in the seventh inning.
That was all the opening the speedy DeShields needed to circle the bases for a three-base error. Two Rangers were on base and scored ahead of DeShields to boost the lead to 4-0.
"It was fun running around the bases," DeShields said. "When I was rounding first, I saw that he missed it but I didn't see how far it was. And when I was going to second I saw that it was pretty far back and I said well, I've got a chance to score."
DeShields reached base a career-high five times. The Rangers' leadoff man had two hits, walked three times and scored twice.
"That's what Delino has done for us since we put him at the top of the lineup and got him into center field," Banister said. "You look at the numbers, when he's doing what he does in the game and gets on base, we're almost a full run more per game."
In a bit of a twist, Bautista scored the Blue Jays' only run when DeShields couldn't cut off a bouncing liner by Edwin Encarnacion in the eighth.
But that was all Toronto would get, as the Blue Jays were also thwarted by a highlight reel catch by Rangers left fielder Will Venables in the second inning. Venables launched himself horizontally to catch Cliff Pennington's liner with a man on.
"If he doesn't make that catch there, it's a different story in this ballgame," Banister said. "I wasn't real sure when it was in flight if he was actually going to get there. To be able to lay out and do what he did to make that catch, incredible. A game-changer for us."
Follow Keith Whitmire on Twitter: @Keith_Whitmire