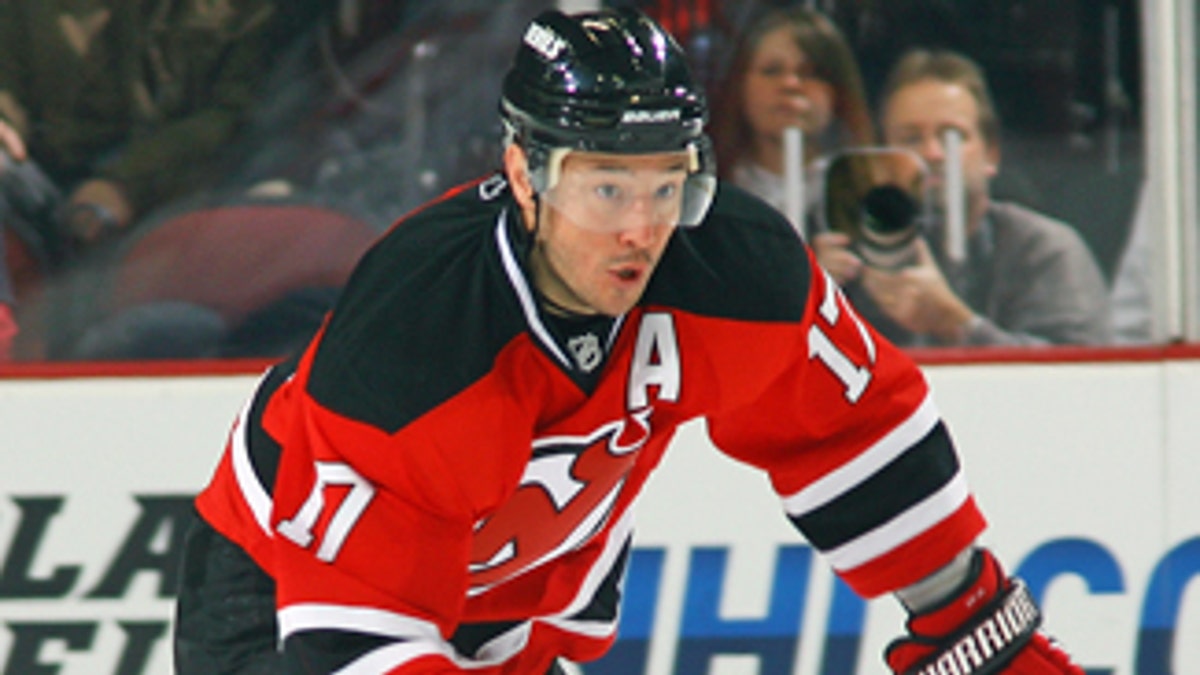 Most fantasy owners know going into a draft that the players you pick could have an up or down season. Injuries play a significant part, as seen with Sidney Crosby, Zach Parise, Evgeni Malkin, Mike Green, Chris Pronger and Semyon Varlamov. Other players though, fail to replicate numbers from past seasons and are seen as disappointments. Weekly Wire has found four players that might have left you wanting more from the draft table.
Two forwards who haven't quite lived up to their reputations this season are Marian Gaborik of the New York Rangers and Ilya Kovalchuk of the New Jersey Devils. Last season, Gaborik had 42 goals to lead all right wings; Kovalchuk had 41. This season though, their numbers are down across the board.
Gaborik has just 44 points after scoring 86 last season, and he's taken almost 100 fewer shots. Kovalchuk has better numbers than Gaborik, but is a far cry from his stats of seasons past, with only 54 points, 61 fewer shots and a minus-22 rating. His numbers would be even lower had it not been for a torrid February, when he had 14 points.
Sergei Gonchar was brought to Ottawa to boost the Senators' power-play production, and although he has tallied 20 points on the man-advantage, his defensive-zone and 5-on-5 play have hurt the team. He had 50 points with the Penguins last season but only 27 this season. Gonchar is a plus player during his career, yet is a minus-15 for the Sens. He also has shot the puck less, and has just 20 penalty minutes.
Many goalies have had seasons they would like to forget, but one fantasy owners drafted hoping for a return to past success is Marty Turco of the Chicago Blackhawks. Turco was signed to fill the void left by Antti Niemi. He started the season relatively well, but with a bad November and the stellar play of rookie Corey Crawford, Turco lost his starting job and has not been able to get it back. His numbers aren't where he would want them to be: 11-11-3, .897 save percentage, 3.02 goals-against average.
Top Pickups (owned in less than 50 percent of Yahoo! Leagues)
1. David Legwand, C, Predators (18 percent) -- Legwand averaged a point per game over 22 games from Feb. 9 to March 26, and has 6 goals and 3 assists in the last seven games. Playing with Joel Ward and Martin Erat, Legwand has produced 41 points and is a plus-15. Add the center for your championship run.
2. Sergei Kostitsyn, LW, Predators (12 percent) -- Legwand's teammate also has been red-hot. Kostitsyn, along with Mike Fisher and Patric Hornqvist, have been the Predators' top line as they search for a playoff spot. Kostitsyn is riding a seven-game point-scoring streak (3 goals, 6 assists), and is tied for the team lead with Hornqvist with 19 goals.
3. Devin Setoguchi, RW, Sharks (34 percent) -- Teaming with Joe Thornton and Patrick Marleau, Setoguchi has 5 points in five games, with 4 points on the power play and 18 shots. He is becoming a frequent visitor on the box score for the Sharks and would look good on your championship roster.
4. Cam Fowler, D, Ducks (21 percent) -- Fowler made it into the Ducks' record book Monday by breaking the rookie record for assists with 27. He since has added another assist and has 9 goals and 28 assists on the season. Over the last nine games, he has 2 goals, 6 assists, 4 power-play points and 17 shots. His plus/minus might hurt, but you can't overlook the offensive numbers he is putting up.
5. Ray Emery, G, Ducks (26 percent) -- Emery has been a major boost for the Ducks with the injury to Jonas Hiller. Since becoming the starter, Emery is 6-0-0, with a 1.90 GAA and a .935 save percentage. If you need help in net, he's definitely worth picking up.