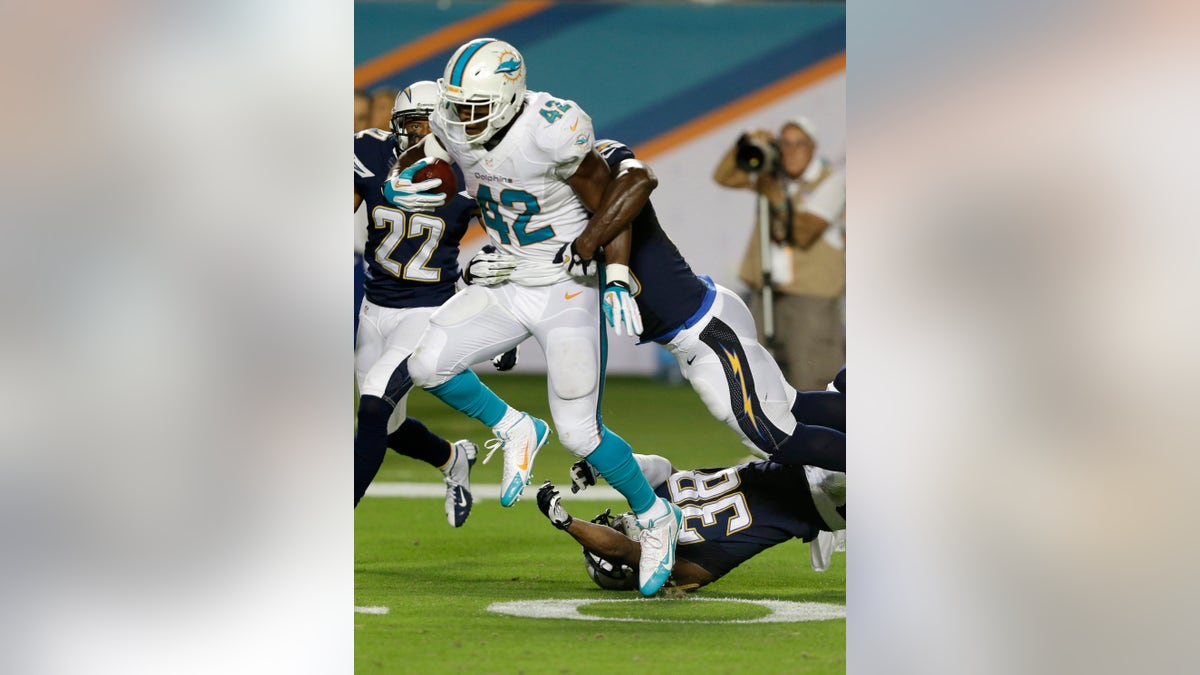 SAN DIEGO – With all the mistakes they made, it's a wonder the San Diego Chargers still had a chance to beat the Miami Dolphins on the game's final play.
The Chargers (4-6) lost their third straight game, 20-16 on Sunday, thanks to a litany of blunders that included 10 penalties for 76 yards, including one that negated a touchdown and another that negated a takeaway.
Then there were, by rookie coach Mike McCoy's count, 12 missed tackles that led to 92 "bonus" yards for the Dolphins.
Three missed tackles came on tight end Charles Clay's 39-yard touchdown reception
Said McCoy: "That's a bad example of how we want to play football."
The loss dropped the Chargers into last place in the AFC West. Up next is a game Sunday at division rival Kansas City, which is coming off its first loss of the season, to Denver.
"We've got a lot of things to clean up," McCoy said Monday.
Among the miscues was when quarterback Philip Rivers didn't spike the ball before the second-to-last play, costing the Chargers precious seconds. Rivers threw an incompletion to tight end Antonio Gates. On the game's last play, Rivers' desperation heave to Vincent Brown in the end zone was knocked down by Brent Grimes.
"We need to spike that," McCoy said. "That's a mistake we made. No excuses. We didn't get that done. It's on all of us."
The Chargers' defense was whistled a number of times for being offside.
"No. 1, they've got to watch the football," McCoy said. "That can't happen. It's not like it happened once. It happened numerous times. They've got to do a better job of focusing. It wasn't only the guys on the edge. It was twice inside where one of them wasn't called where they jumped."
It all boils down to doing little things right.
"That's the one thing I told our football team this morning: It's the basic fundamentals that we executed poorly this past weekend," McCoy said.
On the injury front, McCoy said cornerback Johnny Patrick has a concussion and that rookie wide receiver Keenan Allen (knee) will be fine.
The Chargers signed tackle Willie Smith and released tackle Kenny Wiggins. Smith played in nine games with Oakland last season, with seven starts, and in four games with Washington in 2011, with three starts. The Chargers signed tackle Nick Becton to the practice squad after releasing him from the active roster on Saturday. He replaces guard Andrew Tiller, who was released.
___
AP NFL website: www.pro32.ap.org
___
Follow Bernie Wilson on Twitter at http://twitter.com/berniewilson