Frustrated Kyle Lowry goes to locker room to relax during game, gets ripped by fans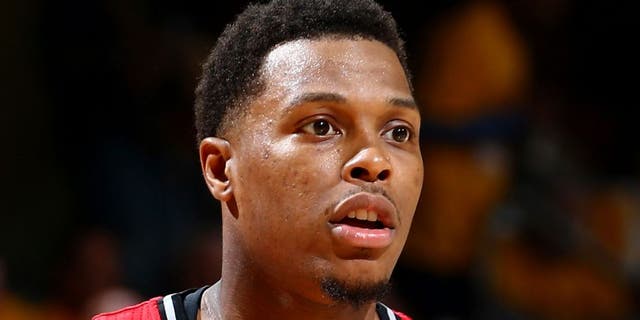 NEWYou can now listen to Fox News articles!
Kyle Lowry has had more than his share of struggles this postseason, and the Toronto Raptors' All-Star point guard is feeling the frustration.
Lowry has just 18 points on 8-for-28 shooting in the first two games of the Eastern Conference finals, as he's been badly outplayed by Cleveland's Kyrie Irving. Lowry has more turnovers (9) than field goals or assists (8), he's taken just two free throws and he's missed 14 of 15 3-pointers.
On Thursday night, Lowry retreated to the locker room with 2:35 left in the first half. At halftime he told ESPN's Doris Burke he needed to blow off some steam.
"Just to kind of decompress, get back there, kind of relax my body and relax my mind," Lowry said after the game. "And knowing that we had a chance to kind of make some things [happen], I wanted to get myself going and get my teammates going and get the team going. It was nothing more than just kind of to decompress, breathe and get back out."
Lowry said it's not the first time he's done it.
"I've done it plenty of times," he said. "It's just now with the magnitude of the situation, it shows a little bit more."
Lowry also refuted the idea that he's lost his confidence.
"I'm super confident," he said. "I missed countless 3s that I thought were good and that I made last series. That's why I'm not down on myself. I'm not down -- I'm really like, we've got a game on Saturday, and I know I'm going to be much more effective on Saturday. Simple as that."
Fans, however, saw something completely different -- especially after Tyronn Lue told reporters before the game that Lowry, whom the Cavs coach has mentored, wanted to watch Wednesday's Warriors game with him -- and torched him on Twitter.