Frustrated D-backs swept by Cardinals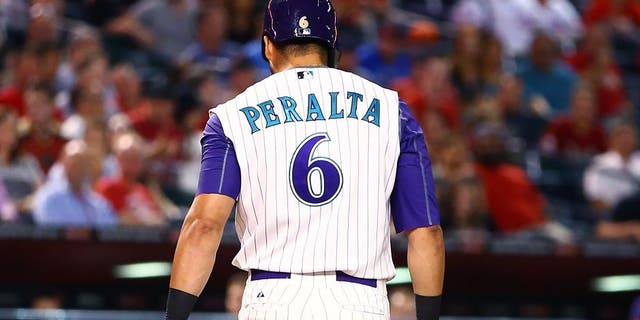 PHOENIX -- A lot changed in four days.
It was just four days ago the Diamondbacks were riding high, on a four-game wins streak and on the verge of thrusting themselves into a pennant race for the season's final month.
Today, after the St. Louis Cardinals on Thursday night completed a four-game sweep with a 5-3 victory, the D-backs aren't even by themselves in third place in the NL West anymore. Their deficit went from five games to 8 1/2 just like that.
That flicker of hope for a run at the postseason was all but smothered by another frustrating loss.
A.J. Pollock smashed his helmet against the ground -- more than once -- and barked at home plate umpire Jim Joyce -- also more than once. David Peralta slammed his bat on the ground and broke it after a strikeout. Rubby De La Rosa briefly raised his arms to the Chase Field roof after an early Cardinals home run.
"I'm just trying to win out there," said Pollock, who grounded into a double play for the third time in two nights and struck out to end the game with two runners on base. "Obviously you don't want to lose. I guess (we) might be pressing but everyone in this locker room wants to win."
The Cardinals completed the season sweep with their seventh straight win over the D-backs. Like the others, there was nothing spectacular from the team with the majors' best record. But also very little less than solid, which only adds to the frustration.
"We didn't play bad (in the series) but I don't think we played good," Pollock said. "You have a really good team right there and, yeah, you have to play really well to beat that team. We played a couple games all right and a couple games, we just played eh and we lost."
The most discouraging moments came in the eighth inning, when the D-backs loaded the bases on three consecutive walks to start the inning but did not score. The Cardinals brought in groundball specialist Seth Mannes, who struck out Peralta and Welington Castillo and got Jake Lamb to ground out on a full-count pitch.
"We got to the bases loaded with patience ... and we have to remember how we got there," manager Chip Hale said. "I don't think many of those pitches we swung at (against Mannes) were strikes.
"That's another situation where I think the anxiety just gets to you. Guys see it right in front of them; they have a chance to be the hero; they want it too bad. That's something with experience that we should get better at."
Hale before the game discussed the unpredictability that comes with one of the youngest starting rotations in the game. Enter De La Rosa.
The right-hander had a 2.88 ERA in his previous four starts and last lost in mid-July. But De Le Rosa was off from the start on Thursday, when he walked the first two batters of the game on a combined nine pitches and gave up five runs in six innings.
Cardinals Tony Cruz and Brandon Moss homered off De La Rosa, who also walked four.
"It just seemed like he was a little over amped, trying too hard," Hale said. "He was flying open, mechanically, and just wasn't finding the zone.
"He just has to get better at managing anxiety. ... Maybe because he wanted to stop the losing streak, maybe because it was the Cardinals, maybe he was tired of watching them beat us here at our house, so maybe was just trying too hard."
The Cardinals had an answer for whatever the D-backs threw at them in the first three games and did so again in the finale. After Arizona strung together four hits to score three runs and tie the game in the second, Carlos Martinez held the D-backs at bay and Brandon Moss regained the lead for St. Louis with a two-run home run to right field in the fifth.
For Cruz, it was his first home run of the season.
"I tried to do too much. My emotions were too high, I think," De La Rosa said. "I tried to calm down a little bit and do a better job."
Trevor Rosenthal saved his third game in the series.