Front Office Insider: Why Bradford could be in store for comeback season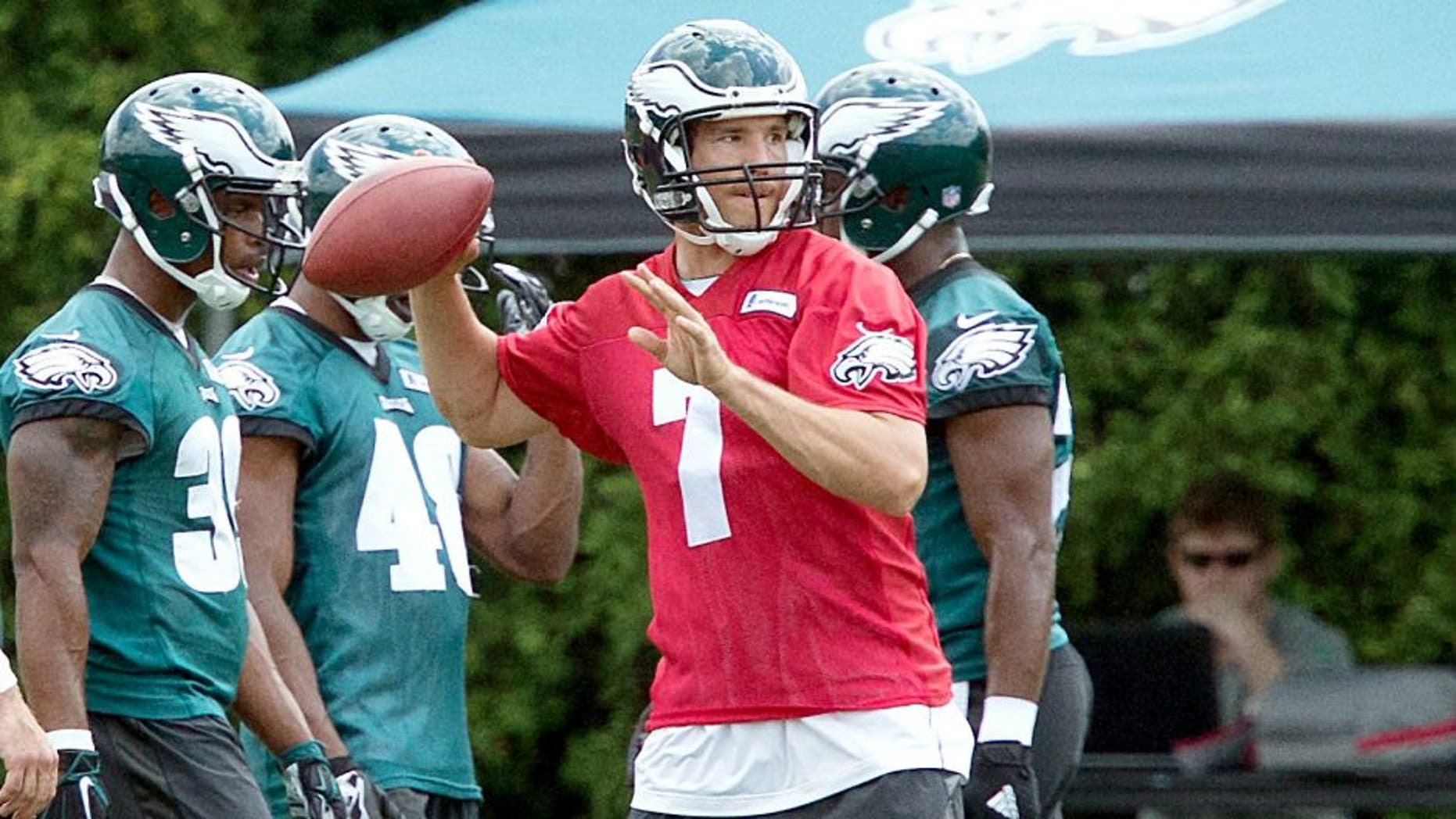 It has been 21 months since quarterback Sam Bradford has appeared in a regular-season game.
Since then, the 2010 No. 1 overall pick has sustained two torn ACLs and been traded from St. Louis to Philadelphia. Bradford needed a change of scenery. The Rams needed to move on. The trade benefited both parties.
While the sixth-year veteran is working his way back to full health from last preseason's knee injury, there are glimpses of optimism with the Eagles.
One scout who is familiar with Bradford's situation attempted to pinpoint where it went wrong in St. Louis.
"During his rookie season, he was extremely accurate and showed the ability to produce," the scout explained. "He was one of the most accurate pocket passers I had seen. They had Steven Jackson and an effective play-action passing game. [Bradford] ended up winning the Rookie of the Year.
"Heading into the next season [St. Louis] felt they had a franchise quarterback. With that, they brought in Josh McDaniels as their offensive coordinator. McDaniels brought an entirely new offense and unloaded all of the protections [and put] check-with-me's on Bradford's shoulders. It was a mess. The next season [Jeff] Fisher became the coach and hired [Brian] Schottenheimer, his third OC in three seasons. It may have overwhelmed [Bradford], and from there he never reached his potential."
Bradford's offensive coordinator during his rookie season was Pat Shurmur, who left St. Louis in 2011 to take the Browns' head coaching job but now is the Eagles' coordinator.
Philadelphia head coach Chip Kelly credited Shurmur in March with driving the trade, then explained to reporters why he was eager to bring Bradford on board.
"I think he's got an outstanding skill set," Kelly said. "He's a big, strong, physical quarterback. He's over 6-4, he's 240 pounds, he's smart, he's intelligent, he's one of the most accurate throwers when you see him throw the football. I think he's smart. I think he's wired right.
"I think we had some inside information because Pat Shurmur had the opportunity to coach the kid for a year [in St. Louis], so he knows what he's like in the meeting room, and he knows what he is like on a daily basis, and he knows the consistency that comes with him, and he understands his work ethic. He's an unbelievable competitor."
Buoyed by a strong power running game led by DeMarco Murray, Ryan Mathews and Darren Sproles, Bradford may finally be ready to reach his potential.
What's the market for the premier LBs?
A week after signed contracts offered some clarity on how elite wide receivers are viewed by NFL teams, another position group is coming into focus: premier linebackers.
Three players enter training camps looking to cash in on their first few years of production -- Carolina's Luke Kuechly, Tampa Bay's Lavonte David and Seattle's Bobby Wagner are in line to receive contract extensions.
David and Wagner are playing under the final year of their rookie deals. Kuechly, a 2012 first-round pick, had the fifth-year option placed on him a season ago, which would pay in more than $11 million in 2016.
But some uncertainty remains on how these players should be compensated.
Before 49ers linebacker Patrick Willis retired, he was the highest-paid inside linebacker in the league, averaging $10 million a year with $29 million guaranteed. Earlier this offseason, Jerod Mayo (Patriots) and Jon Beason (Giants) each agreed to pay cuts that brought down their per-year averages. There isn't a linebacker in the league who averages more than $10 million a year.
Instead, the highest-paid player at the position is Pittsburgh's Lawrence Timmons, who agreed to a six-year deal in 2011 and averages $9.5 million a season. Expect Kuechly to top that $10 million mark.
"Kuechly will shatter that number," one league executive said. "I anticipate his average per year will be much higher than that. He's a pretty unique player."
One league source estimated that Kuechly could earn in the ballpark of $12 million a year on average and well more than $30 million guaranteed.
Kuechly was the Defensive Rookie of the Year in 2012 and Defensive Player of the Year in 2013. Last year, the Panthers linebacker led the league in tackles, while posting three sacks and forcing a fumble.
David, 25, who is set to earn a base salary of $738,418 in 2015, is one of the biggest bargains in the league. Despite missing two games due to injury last season, he finished third in the league with 146 tackles and forced four fumbles. The 2012 second-round pick from Nebraska has drawn immense praise from his head coach (1:42 in) and was ranked 56th overall in NFL Network's top 100, which is voted on by NFL players.
Wagner topped 100 tackles and was named an All-Pro last season despite missing five games. He, too, is in line for some long-term security.
The domino that falls first will go a long way toward establishing a new market at the position.
Dynamic TE duo in Jacksonville?
Jaguars quarterback Blake Bortles' challenging rookie season was in part the result of cast around him.
An unproven group of pass catchers, 55 sacks, and arm deterioration during the season added up to a rocky first year.
But adding tight end Julius Thomas and restructuring Marcedes Lewis' deal will give the Jaguars quite a threat in the red zone.
One scout noted that Jacksonville could use Thomas and Lewis in a manner similar to how the Patriots deployed Rob Gronkowski and Aaron Hernandez in New England.
In 2012, Gronkowski and Hernandez racked up 169 receptions (the most ever in NFL history for TE combo), 2,237 yards and 24 touchdowns combined. Since then, no tight end duo has been able to replicate that.
Though it's hard to fathom Thomas-Lewis achieving such heights, the threat of a two-tight end set is certainly a coup for Bortles.
The ability to flex each player out in the passing game or use them to block on the line of scrimmage for a downhill running back like former Alabama product T.J. Yeldon is appealing.