From south suburbs to lowest rung of minors, local hero Scott Darling finally back home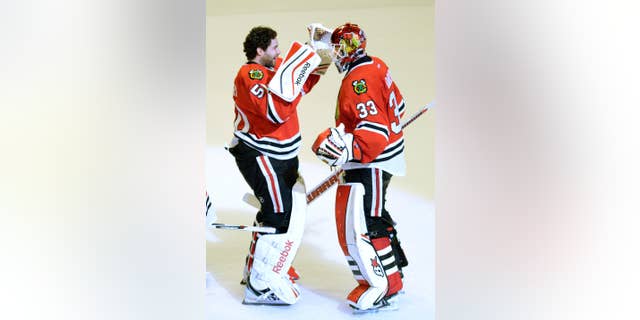 CHICAGO – Scott Darling doesn't need reminding that all those other saves, the ones that win big playoff games, wouldn't have happened without the first one.
The 6-foot-6 rookie goaltender may be the toast of the town at the moment, but he had to learn to put down his own beer first. Four years after Darling nearly hit bottom both personally and professionally, he's stepped in twice for Blackhawks starter Corey Crawford and become the defensive anchor for the team he followed as a kid.
Darling stopped 32 shots in the 4-2 win Sunday that nudged the Blackhawks back in front of the Nashville Predators in their first-round playoff series, 2-1. After playing just 14 games during the regular season, he was called in to relieve a shaky Crawford after the first period of Game 1, and promptly played his way into the NHL record book — longest relief stint by a keeper (almost 68 minutes) without surrendering a goal.
But Darling was back on the bench for Game 2, and after being named the starter for Game 3, he struggled early to hold his own. After each of the Blackhawks' first two scores, Darling got beat barely a half-minute later. That would be enough to spook lots of goalies, let alone a rookie with nearly two dozen family members sprinkled in among 22,000-plus rabid fans.
"To be honest, there was a lot of 'Do I really belong here?' when I first got here," Darling recalled afterward. "And I'm trying hard, even now, to stop saying that to myself."
Darling, 26, was wide-eyed when he arrived, if only because of where he'd been. He grew up in Chicago's far south suburbs, a promising prospect who figured to find his way back home with the big club someday. Instead, he picked up a drinking habit in college, and got thrown off the team at Maine.
What followed were a few stops in the far-flung, lower rungs of minor-league hockey, places like Louisiana and Las Vegas where big-league scouts get only so often. Worse, Darling was often out of shape and running out of patience, but luckily not friends. Two coaches who'd seen potential in him early, Brain Daccord and Mitch Korn, stuck with Darling on the long road back up. They helped him with the training and conditioning, but only after he proved he was willing to help himself.
Darling said even at the lowest point, after being cut from what might have been the worst team in organized hockey, he never forgot something his father told him about getting ahead: "It was kind of like his motto — 'Saw the wood that's in front of you,'" Darling recalled with a chuckle. He uses it even now to refocus himself on the task at hand.
The first Nashville goal was a slap shot from Mike Ribeiro, who was left wide open because of a defensive lapse and barely 15 from the net; the second a screened shot from the left point by Mattias Ekholm. It was hard to tell whether either goal rattled Darling at the time, because he played nearly flawlessly the rest of the way.
Afterward, though, Darling was still rankled about not stopping the first one. He was braced for a full-speed slap shot, and Ribeiro didn't get all of the puck — "a knuckleball," Darling called it ruefully, "that didn't go where either of us expected it to."
But the moment after that, he agreed to a reporter's request and eagerly showed off the custom-made helmet he ordered when he got to town. There are Chicago icons all over it. "You've got the Blues Brothers here, Portillo's Hot Dogs and Ferris Bueller over here," Darling said.
With a newly-inked, two-year contract extension, Darling figures there's a good chance it will see plenty of action. But he makes no bones that he still considers Crawford the No. 1.
"I'd do anything to have the success he's had. I can't say how much I'm learning from him every day," Darling said. "He still hates it when our guys score on him practice."
The Predators aren't going to get in the middle of what's become an interesting dilemma for Blackhawks coach Joel Quenneville. They say they don't care whether he picks Darling or Crawford.
"It's about our team and what we've got to do as a team to create offensive and get some shots on net," Ribeiro insisted. "It doesn't' really matter which one's in net."
Try telling that to Chicago.