From parity to clarity, Pac-12's playoff path emerges in division leaders Oregon, Arizona St.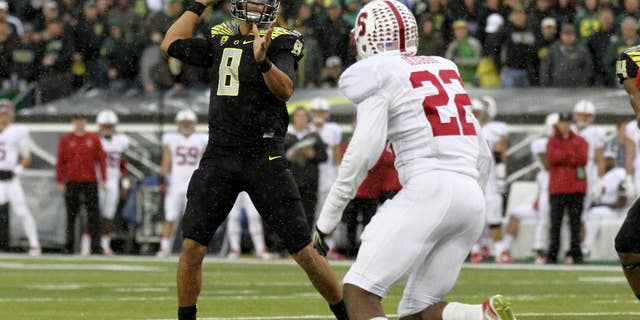 SAN FRANCISCO – Parity is giving way to clarity in the Pac-12 race.
After two months of muddled standings, the road to the conference championship game — and a possible spot in the four-team College Football Playoff — is paved for a pair of Pac-12 teams now.
Oregon (8-1, 5-1) has a near-insurmountable lead in the North Division after rolling past Stanford last Saturday. The Ducks are fourth in the College Football Playoff rankings — just ahead of Alabama and TCU — and fifth in The Associated Press poll.
In the South, No. 11 Arizona State (7-1, 5-1, No. 9 CFP) is alone at the top after outlasting Utah in overtime and getting help when UCLA beat Arizona. The schedule sets up for the Sun Devils to continue to rise in the rankings if they win out.
While nothing is guaranteed, the best-case scenario for the Pac-12's playoff chances is clear: Oregon and Arizona State meeting in the conference championship game as one-loss teams.
"I do think there's a lot of anticipation about the playoff. I think there's a lot of excitement. I can sense that from the players," Arizona State coach Todd Graham said. "I can't imagine winning the conference championship, the Pac-12 champion not being in the four-team playoff. But you got to win. Our focus and anyone who plays in the Pac-12 is to win the Pac-12 championship. We got a shot to do that."
Surviving the rest of the schedule is still no sure thing for either team.
Marcus Mariota and the Ducks dominated Stanford in a 45-16 victory in Eugene last week, ending the Cardinal's two-year reign as conference champions. Oregon has won four straight since losing to Arizona at home, and the most difficult game left on its schedule is the next one.
The Ducks play at No. 20 Utah (6-2, 3-2, No. 17 CFP) on Saturday night before hosting Colorado (2-7, 0-6) and visiting rival Oregon State (4-4, 1-4). Oregon can lose a game and probably two and still win the Pac-12 North, but one loss and the Ducks know their playoff chances will be dashed.
Oregon coach Mark Helfrich said he's not focusing on the rankings, however, the loss to the Wildcats seemed to refocus his team's preparation knowing another defeat would end their playoff dreams.
"Unfortunately, sometimes it's adversity in the form of a loss that wakes everybody up," Helfrich said. "You don't want to lose, but how our guys responded to that and how they came together is very encouraging."
Arizona State has just one blemish on its resume, though it's a big one — a 62-27 home loss to UCLA on Sept. 25. Since then, the Sun Devils have leaned on their defense and two different quarterbacks to beat Southern California, Stanford, Washington and Utah.
Arizona State is five spots behind Oregon in the playoff rankings in large part because of that lopsided loss and the selection committee's emphasis on strength of schedule. The Sun Devils have a chance to improve the latter and make voters further forget about the former when they host No. 8 Notre Dame (No. 10 in CFP) in a non-conference game Saturday.
Arizona State finishes the season against Oregon State, Washington State and No. 21 Arizona. Add a potential victory in the Pac-12 title game over a one-loss Oregon team, and Arizona State's resume would give voters a lot to think about.
Pac-12 Commissioner Larry Scott said at halftime of the Oregon-Stanford game that he believes the conference is in "great shape" to make the playoff. He has maintained all season that he has confidence in the committee and the selection process, which is expected to value conference champions.
Even with the strength of the Pac-12, though, two losses will likely be too much to overcome this season.
"Once we lose a game, we said, 'Look, guys, it's a single-elimination tournament from here on out. You can't lose another game and expect to reach our goals,'" Graham said. "And our goal is to be national champions, to be in the final four and compete for that."
___
Antonio Gonzalez can be reached at: www.twitter.com/agonzalezAP