From blow horns to Terrell Owens: A year by year recount of Bills' 14-season playoff drought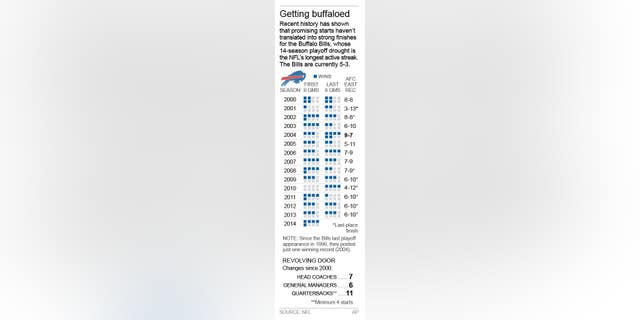 ORCHARD PARK, N.Y. – Bills receiver Sammy Watkins was 6 years old when Buffalo last made the playoffs.
So excuse the rookie first-round pick if he has little interest in discussing what's gone wrong over the previous 14 seasons.
"I don't know what happened the previous years," said Watkins, as the Bills (5-3) find themselves in the AFC playoff picture in preparing to host Kansas City (5-3) on Sunday. "I wasn't here."
Here then is a chance to catch up on the details of what stands as the NFL's longest active postseason drought.
It dates to Jan. 8, 2000, when Buffalo lost 22-16 to Tennessee in an AFC wild-card playoff on a last-second kickoff return that became known as the "Music City Miracle".
Ever since, the Bills have been out of tune. They've had 11 quarterbacks start at least four games, and are on their seventh coach and sixth general manager.
They've had a winning record once, a 9-7 finish in 2004, which is the closest Buffalo came to making the playoffs. Those hopes ended with a 29-24 season-ending loss to Pittsburgh in a game the playoff-bound Steelers rested most of their starters.
Here's a season-by-season account of how the Bills got here:
2000 (8-8): At 7-6, and heading into a matchup against the 7-6 Indianapolis Colts, Bills coach Wade Phillips suggests Buffalo has little chance at making the playoffs. The Colts beat the Bills and reel off two more wins to make the playoffs. GM John Butler was fired in December for failing to commit to a contract extension, and Phillips was fired after the season.
2001 (3-13): Bills give coaching job to Gregg Williams, who uses blow horns as wakeup calls inside player dorms at training camp. Team sleepwalks through a season in which it gets off to 1-10 start, during which Williams says: "That doom and gloom stuff ain't going to cut it with me. ... Next question."
2002 (8-8): Quarterback Drew Bledsoe's arrival in draft-weekend trade with Patriots raises expectations. Bledsoe provides a spark to what becomes a pass-happy offense that cools once winter arrives. This also coincides with Tom Brady's era of dominance over Buffalo. Bledsoe's replacement in New England beats Buffalo twice in building what now stands as a 23-2 record over the Bills.
2003 (6-10): Bills' hot start and cold finish are encapsulated by two games against Patriots. Buffalo opens with 31-0 home win, and closes with 31-0 loss at New England, after which Williams is fired.
2004 (9-7): With Mike Mularkey as coach, the Bills get off to a 3-6 start before running attack and stout defense spark six-game win streak. Buffalo enters finale against Steelers needing win and Jets to lose to clinch playoff berth. The Jets lose, but so do Bills in game that turns on then-backup linebacker James Harrison returning Bledsoe's fumble 18 yards for TD. Following game, Bills cornerback Terrence McGee says, "Who is this Willie Parker?" referring to Pittsburgh's then-backup running back who had 102 yards rushing.
2005 (5-11): Bledsoe is released and Bills hand job to untested second-year quarterback J.P. Losman, who proves he wasn't — and never would be — ready. Team president Tom Donahoe is fired after a season during which he has testy exchange on his radio show with caller who asks Donahoe to resign. Donahoe responds by saying: "There's certainly other radio stations in this town that you can call if you want to act like a jerk." The offseason becomes more tumultuous when Mularkey abruptly quits days after Marv Levy is hired as GM.
2006 (7-9): The Dick Jauron coaching tenure begins with Buffalo showing signs of being competitive by closing season by winning four of six. Any chance for winning record ends with 30-29 loss to Tennessee on Christmas Eve, when Vince Young rallies Titans from 29-20 fourth-quarter deficit.
2007 (7-9): At 7-6, Bills muddle through 8-0 loss during near whiteout conditions at Cleveland. The following day, Bills' charter flight skids off runway before arriving at the gate, forcing team to bus home. "It seems like when it rains it pours. But in this case it's snow," defensive end Chris Kelsay said.
2008 (7-9): While snow falls in Buffalo, Bills (6-6) open series of annual home games in Toronto's domed Rogers Centre with 16-3 dud against warm-weather Dolphins. Surprised by large turnout of Miami fans, Dolphins running back Ronnie Brown says: "I didn't feel like we were playing an away game."
2009 (6-10): Terrell Owens' arrival sells tickets but doesn't translate into wins on team that proves more dysfunctional than mercurial receiver. Jauron fires offensive coordinator Turk Schonert 10 days before start of season. Bills open with Leodis McKelvin fumbling kickoff return that contributes to Patriots overcoming 11-point deficit in final 2:06 for 25-24 win. Jauron fired after 3-6 start, and 41-17 loss at Tennessee during which Titans owner Bud Adams gets fined $250,000 by NFL for making obscene hand gestures at Buffalo fans.
2010 (4-12): Chan Gailey's tenure as coach begins with eight straight losses. Receiver Stevie Johnson questions God on Twitter after dropping potential touchdown pass in overtime following 19-16 loss to Pittsburgh. Bills owner Ralph Wilson provides levity during midseason interview by apologizing for crackling phone connection, which he jokes is as bad as his team.
2011 (6-10): Ryan Fitzpatrick gets Buffalo off to 4-2 start, which earns him six-year, $59 million contract extension. Two days later, Fitzpatrick injures ribs in 23-0 win over Washington, and Buffalo drops next seven.
2012 (6-10): The signing of defensive end Mario Williams to six-year $100 million contract in free agency can't help porous defense that allows franchise-worst 349 points; or save Gailey's job.
2013 (6-10): Promoted to team president, Russ Brandon declares he will leave no stone unturned in making Bills relevant again. Bills hire Doug Marrone out of Syracuse to take over as coach and draft quarterback EJ Manuel in first round. Manuel eventually sidelined by three separate knee injuries, and Bills offense sputters under Thad Lewis and Jeff Tuel.
___
AP NFL website: www.pro32.ap.org and http://twitter.com/AP_NFL