Friday, May 5: Toronto Blue Jays at Tampa Bay Rays game preview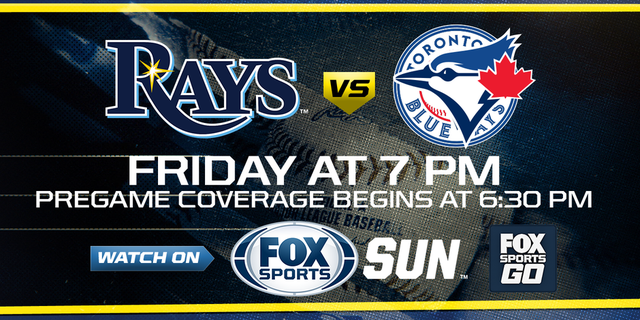 TV: FOX Sports Sun
TIME: Coverage begins at 6:30 p.m. ET
ST. PETERSBURG, Fla. -- Tampa Bay Rays shortstop Tim Beckham wore a pair of powder-blue cleats on Thursday night, loud enough that manager Kevin Cash had told him before the game he needed to put his bat where his feet were.
"You've got to have a lot of confidence to wear those shoes he wore tonight on the field," Cash said after Beckham hit a pair of two-run home runs in a 5-1 win over the Miami Marlins. "I told him you better do something to pull those off, and he told me not to worry about it, and he was right. I was wrong."
Beckham has certainly gotten off on the right foot in 2017, stepping in as an injury replacement while Matt Duffy has missed the first month of the season still recovering from an Achilles injury. Beckham has six home runs and 15 RBIs, putting him among the team leaders in both categories.
As the Rays open a three-game series Friday against a Toronto team that is starting to come around, they need a deep batting order that can come through to match the Jays' dangerous bats, and Beckham has been one of those pleasant surprises.
"It's nice being in the lineup every day," he said. "You have ups and downs throughout the season and how you take your downs speaks a lot about you. Every time we take the field, we want to win the ballgame."
The Rays (15-15) took three of four from Toronto in an early series at Tropicana Field, but the Jays (9-19) took two of three when they played at Rogers Centre. After a 1-9 start, Toronto is 8-10 since, despite losing their last two to the Yankees before having a day off Thursday.
"We came out of the gates swinging, but we had some missed opportunities later," said manager John Gibbons, needing more from his bats than the team's current .235 batting average, allowing eight more home runs than they've hit in 2017.
The Rays open the series Friday with Chris Archer on the mound -- he's 2-1 with a 3.43 ERA this season, and is 6-4 for his career with a 3.06 ERA against Toronto. His last start was at Toronto, and on Sunday he went 7 1/3 innings and left with a 1-0 lead, only to see the bullpen take the loss.
Archer has given up two earned runs or less in seven straight starts against Toronto and in 12 of his last 13 starts against the Blue Jays -- he's faced them twice already this season, with a stellar 1.80 ERA but no wins yet to show for it.
The Jays answer with lefty Francisco Liriano, who is 2-2 with a 3.97 ERA on the season -- he got the win Saturday against Tampa Bay, holding the Rays to one run on four hits in five innings. That's considerably better than his first outing of the season at Tropicana Field, when he retired only one batter, leaving in the first inning after giving up five runs on three hits and four walks.