Freshman RB London scores 2 TDs as No. 5 Spartans top W. Michigan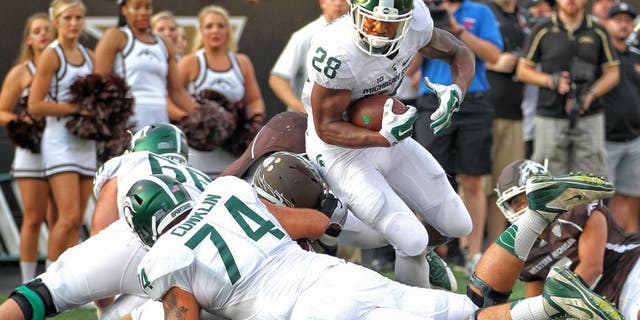 NEWYou can now listen to Fox News articles!
KALAMAZOO, Mich. -- Michigan State looked as if it needed a tuneup before playing Oregon.
Madre London ran for two touchdowns in the first several minutes of his college career to help the fifth-ranked Spartans build a big lead they needed to hold off Western Michigan for a 37-24 victory Friday night.
The Spartans led 27-7 in the second quarter and were up 24 points in the third in the opener. The Broncos refused to get routed, though, pulling within 10 early in the fourth by putting together two long TD drives.
After giving up a field goal and having a three-and-out possession, Western Michigan drove to the 7 with a chance to make the final minutes dramatic. Freshman cornerback Vayante Copeland, though, ended the suspense with an interception in the end zone.
"It's our first game. We all have our struggles," Spartans receiver DeAnthony Arnett said. "Next week, we'll come out more focused and more prepared."
The seventh-ranked Ducks were able to watch the Spartans on TV a day before opening the season at home against Eastern Washington.
"It's time to get ready for Oregon," Arnett said.
The Spartans set a school record by scoring 30-plus points for the ninth straight game. The broke the mark set in the 1978 and 1979 seasons.
Michigan State was relatively shaky when Connor Cook was passing, and when it was defending the pass.
Cook was 15 of 31 for 256 yards with two TDs. He had plenty of time to throw when he dropped back for most of his passes, but many of his passes were off target. Cook threw a 9-yard TD pass to Josiah Price late in the first quarter and a 21-yarder to Arnett early in the third to give the Spartans a 34-10 lead.
Michigan State's Aaron Burbridge had four receptions for 117 yards. The Spartans had a trio of running backs, including London, combine to run for 190 yards on 35 carries.
Arnett caught his first TD pass since he was a freshman at Tennessee in 2011.
"A lot of stuff was going through my mind," Arnett said about his thoughts from the end zone. "It's good to be here. It's been a long time."
LJ Scott, a freshman, ran for 77 yards on 13 carries. Holmes had 54 yards on nine attempts, including an 8-yard TD run in the second quarter.
Western Michigan's Zach Terrell was 33 of 50 for 365 yards with two TDs and two interceptions.
Western Michigan receivers were able to separate from the secondary to make catches in space. Daniel Braverman had 13 receptions for 109 yards and Corey Davis caught 10 passes for 154 yards, including a 17-yard TD reception late in the third quarter. The Broncos failed to strike a balance in part because Jarvion Franklin ran for just 23 yards on eight carries before a hard hit sent him to the sideline in the third.
Darius Phillips scored a game-tying, 100-yard kickoff return midway through the first quarter for the Broncos. Phillips took the opening kickoff to the Michigan State 30 to set his team up with an opportunity to score first, but Andrew Haldeman missed a 41-yard field goal.
"The kickoff returns were glaring and we need to get them fixed up," Michigan State coach Mark Dantonio said.
When the Broncos were making a comeback in the second half, no one at Waldo Stadium seemed more fired up than their 34-year-old coach. P.J. Fleck, the youngest coach in major college football, looked like a youngster when he landed a flying chest bump on one of his players.
About an hour later, Fleck wished he was still celebrating.
"There's a team over there that's elite with the green helmet. There's a team over here with the brown helmet," Fleck said. "You figure three or four plays and people would be talking we're the fifth team in the country now. But that's football. You can't play could've, would've, should've."