Freshman L.J. Scott emerges RB option for No. 21 Louisville, next up is test at Virginia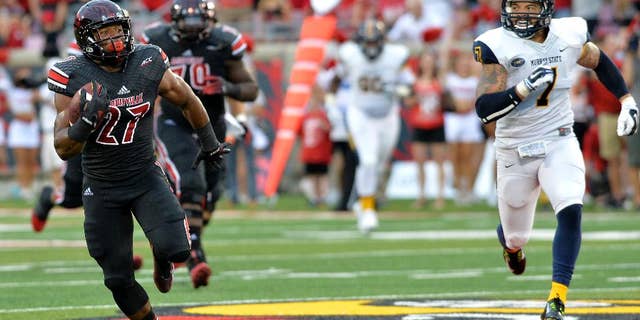 LOUISVILLE, Ky. – Louisville freshman running back L.J. Scott is "used to playing up."
He played youth football with 12-year-olds at 8 before being sent to play with 10-year-olds after he was found to be too young. Scott also started on his high school's varsity team as a freshman.
Now he seems up for the challenge again.
Scott ran for 126 yards in Saturday night's game against FCS-level Murray State. He carried the ball 11 times and had a short touchdown in Louisville's 66-21 rout, helping the No. 21 Cardinals (2-0, 1-0 Atlantic Coast Conference amass 325 yards on the ground.
Most importantly, Scott showed he can add running back depth for Louisville as the Cardinals travel to Virginia (1-1, 0-0) on Saturday.
Scott had just three carries for two yards in the season opener against Miami. But now he is the ACC rookie of the week, saying the game against Murray State was "an opportunity to get my feet wet, to get acclimated to the speed of the game. It was a great team to really have my college debut against."
The game showcased the potential of Scott and sophomore Brandon Radcliff (15 carries, 97 yards, 2 TDs) to pick up the slack for senior Dominique Brown on the depth chart.
Though Brown's career bests of 33 carries for 143 yards against the Hurricanes showed his durability, Cardinals coach Bobby Petrino sought contributions from other backs so he won't have to carry that much.
The coach made a point of trying to use Scott when it mattered and the 6-foot, 228-pounder delivered on his first carry by sweeping around left end for a 68-yard run. He capped the drive with a 1-yard TD run five plays later.
"It was really good to see him run hard, run fast," Petrino said after the game. "We've seen that all spring and in practice. ... We're certainly going to need him."
How much Scott and Radcliff will play against the Cavaliers is unclear, but the Cardinals have two more options along with speedy Corvin Lamb. Senior Michael Dyer could also play after missing the first two games with an injured thigh.
Even better for Petrino is knowing his backs can be explosive.
"I like the way we're running the football," Petrino said Monday. "I think we're running it with some power, we're running it when we have to run the ball."
The only running back in Louisville's 2014 recruiting class, Scott was rated one of Ohio's top prospects after rushing for more than 1,000 yards as a senior at Marion's Harding High School.
But he started as a ninth-grader, just part of a career that has often matched him against older players — and excelling.
"It's definitely a big thing in my household to hold yourself in a mature manner, out in public, on the field and in all aspects of life," said Scott, who enrolled at Louisville in January. "As far as not being a freshman, I don't think of it as not being a freshman. I just think of it as going out there and handling my business."
___
Associated Press freelance writer Josh Abner contributed to this report.