Freshman DeShields kicks game up a notch with big scoring performances for No. 11 Tar Heels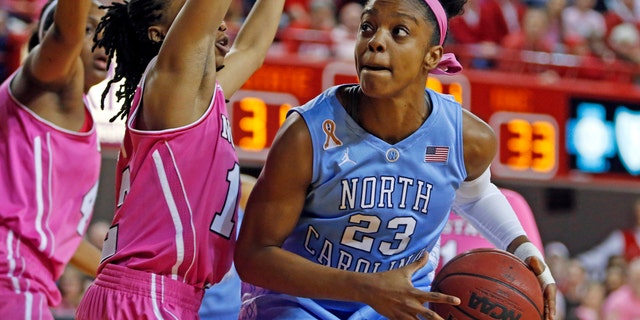 NEWYou can now listen to Fox News articles!
CHAPEL HILL, N.C. – Diamond DeShields stared down one of college basketball's most hostile arenas, led North Carolina to two road wins against top-10 teams and set a school freshman scoring record — all in a week.
For the Tar Heels' confident rookie, this is just the beginning.
"I don't feel like a freshman," she said. "I didn't think it would feel like this in my first year. Things are really starting to slow down. The game's really starting to come to me. I didn't think that would happen so quick."
DeShields, a 6-foot-1 forward from Norcross, Ga., arrived as the top player in a heralded recruiting class, a McDonald's All-American with an all-around game joining the No. 11 Tar Heels' fast-paced style.
The daughter of former major league baseball player Delino DeShields is leading UNC (20-6, 8-4 Atlantic Coast Conference) in scoring at 18.3 points per game on the season. But DeShields has upped her play in league games — and during the last three, in particular — heading into Thursday's game at Virginia.
First came the Feb. 10 game at then-No. 3 Duke, when DeShields scored 30 points in UNC's first win at Cameron Indoor Stadium since 2008.
Then, after scoring 19 against Pittsburgh, DeShields scored 27 of her rookie-record 38 points after halftime Sunday at then-No. 10 North Carolina State. It was the most points by a UNC player in 16 years.
She said she's become more patient in looking for her shot, something she didn't have to do in high school against overmatched defenses. It's paying off, with DeShields scoring at least 18 points for seven straight games and averaging 21.8 points in ACC games.
"It's definitely scary because she's going to get better," fellow freshman Allisha Gray said. "It's amazing. I'm so proud of her. In everything she does, it's like 100 percent all-out. And I'm just a happy teammate and a happy friend."
No doubt, DeShields knows how to put the ball in the basket.
She's strong enough to attack the paint or post up defenders. She's comfortable shooting a jumper off the dribble or in transition, enough so that longtime associate head coach Andrew Calder — who is in charge while Hall of Famer Sylvia Hatchell seeks treatment for leukemia — said after Sunday's win that DeShields already has the best pull-up game in college basketball.
Now she's hitting her 3-pointers, too.
After shooting 26 percent behind the arc heading into Cameron, DeShields hit five 3s against the Blue Devils and five more against the Wolfpack.
"She's tough to match up with," N.C. State coach Wes Moore said, "and we didn't really have an answer for her either."
Delino DeShields, the manager with the Cincinnati Reds' Double-A affiliate in Pensacola, Fla., had signed to play basketball for Villanova before opting to enter the minors as a first-round draft pick. After his daughter's 38-point outburst, he said he heard from a cousin telling him he wasn't the best shooter in the family anymore.
He couldn't disagree, texting Diamond to say she inspired him to be the best coach he can be during spring training.
"I'm just really showing how proud I am of her," he said. "I just wanted to let her know that she really does inspire me. That's my daughter. I feel like that about all my kids, but what she's doing and what she's able to become, it's doing a lot for daddy right now."
Since the Duke win, DeShields has been named national player of the week by espnW, the U.S. Basketball Writers Association and NCAA.com. The three-time league rookie of the week was also named ACC player of the week.
But DeShields is focused on more. Two weeks shy of her 19th birthday, she talks about wanting to "make believers out of everybody" and forcing critics to begrudgingly respect her play.
The best way to do that is to keep improving while helping the Tar Heels make a long run in March.
"I'm just playing the best I can do and I know there's another level for me," she said. "And there's another level after that level. So for me, (the past week) is over with. I'm moving on and I want to do better. I haven't played my best basketball yet, and I know it. I'm pretty sure anybody else can see that, so I'm not satisfied."
___
Follow Aaron Beard on Twitter at http://www.twitter.com/aaronbeardap