French beauty talks of night with Odell Beckham Jr.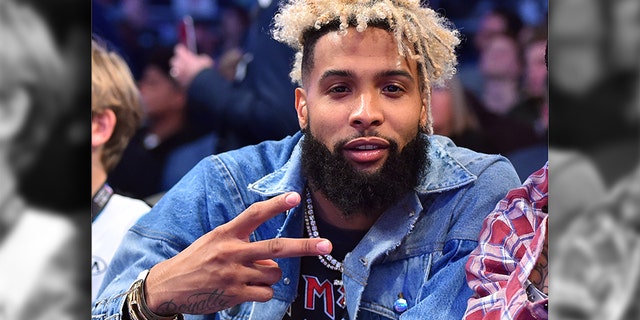 Odell Beckham Jr. may not speak French, but he knows how to get his message across to the femmes.
The Giants wide receiver found himself in a scandal last weekend when a Parisian beauty posted to social media a seven-second video of Beckham in bed, smoking what looks to be a blunt and hanging out near a suspicious-looking white powder. And it turns out that he romanced the woman, Laura Cuenca — who does not speak English — without uttering a word of the language of love.
But when Cuenca first noticed Beckham making eyes at her across a jam-packed Paris nightclub, she had no idea who he was.
The football player was sitting at a big table in the VIP area of Le Queen club on March 8, surrounded by friends and security guards, but his attention was laser-focused on the raven-haired beauty at a nearby table.
"I saw this beautiful-looking man [who] looked like a Saudi prince," Cuenca, a 21-year-old Instagram model, exclusively told The Post in her native French. "He was looking at me . . . and he seemed to want to talk to me."
"One note said, 'I want you.' I understood what he wanted, and my friend left."
"I don't know anything about American culture or celebrities," admitted Cuenca, who racked up over 3,000 new Instagram followers after The Post revealed her identity last week.
Her naiveté may be why she had the courage to make the first move on Beckham, 25.
"I asked my friend, who speaks perfect English, to talk to him for me," she said. "He told her he was leaving with his friends and asked for my number."
Around 4 a.m., Beckham texted her and asked if she'd come to his suite at the exclusive Four Seasons George V hotel off the Champs-Élysées, where rooms go for $1,000 and up.
She replied "yes," and told him her friend would come along to translate.
He texted back "no problem," and the two made their way to the luxurious hotel in the heart of Paris' Golden Triangle, home to upscale boutiques and restaurants.
The women had to show identification to be let up to Beckham's room, but Cuenca still thought it was because he was royalty. The athlete greeted them in a black T-shirt and basketball shorts.
Soon, the threesome cozied up on Beckham's plush bed next to a pepperoni pizza he had previously ordered. Then, Cuenca said, she began filming the scene with her phone. In the video, which Cuenca later posted to Snapchat, her pal can be seen holding what appears to be a plastic card in front of a small pile of white powder.
Beckham, who is seemingly unaware he is being filmed, can be heard uttering, "trying to get you to sleep with someone" in the clip.
A one-second-long video of Cuenca lying on the bed is tacked on at the end.
Although she refused to elaborate on what transpired in the video, Cuenca adamantly denied that the trio was using illicit drugs.
"People say that we did drugs, but no way. No way," she said. "[Beckham] was completely against that."
Instead of a marijuana-enhanced cigar, the Giants star was holding "a piece of pizza," she said.
The Gallic temptress said she posted the video because "I always Snap everything."
It was only after she uploaded the clip that "my friends [replied and] told me who he was . . . that he was a really famous sports personality," Cuenca said.
Although the two lovebirds couldn't communicate with spoken words, Beckham nonetheless wrote her notes, in English, on the hotel stationery.
"One note said, 'I want you,' " said Cuenca, who could make out the words herself. "I understood what he wanted, and my friend left.