Freeney ready for Cardinals debut against Roethlisberger-less Steelers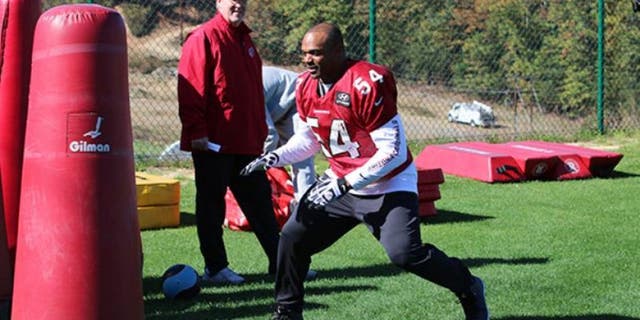 NEWYou can now listen to Fox News articles!
Despite Ben Roethlisberger's speedy recovery, the Pittsburgh Steelers are prepared to roll on without him. Standing in the way is an Arizona Cardinals team dealing with its own health issues.
The Steelers look for their second straight win without their top quarterback Sunday as the visiting Cardinals hope to remain on their hot pace without a few key contributors.
Roethlisberger watched from the sideline the last two weeks with a sprained left MCL and bone bruise, originally thought to keep him out for four to six weeks. Even though he returned to 7-on-7 work at practice Wednesday and says he wants to play against the Cardinals, the team officially ruled him out Friday.
In the meantime, Pittsburgh (3-2) is just trying to keep its head above water with backup Mike Vick. After dropping a 23-20 game in overtime to Baltimore, the Steelers exhaled with a 24-20 win over San Diego on Monday night - coming on a Le'Veon Bell plunge into the end zone on a final-play wild cat run.
Instead of keeping the ball with Vick -- a failed formula against the Ravens -- Pittsburgh snapped it straight to Bell with five seconds left, which could have run out the clock without a chance at a chip-shot field goal.
"We were going to play to win, we weren't going to play not to lose," coach Mike Tomlin said Tuesday. "We talked about it openly the night before the game. ... We don't live in our fears. I like the fact the group embraces that."
The Steelers kept pace with unbeaten Cincinnati in the AFC North, but issues on the offensive side of the ball remain until Roethlisberger is able to take the field.
Through Week 3 -- quarterbacked mostly by Roethlisberger until he exited a 12-6 win over St. Louis in the third quarter Sept. 27 -- Pittsburgh was third-best in the NFL with 298.7 passing yards per game. Since, Pittsburgh has averaged 162.3, second-worst in the league.
Roethlisberger's eventual return might help Antonio Brown more than anybody. Brown was second in the NFL with 436 receiving yards through three weeks but has 87 in the last two.
Last season's breakout rookie Martavis Bryant will likely return after serving a four-game suspension for violating the NFL's substance abuse policy and missing Monday's game with a knee injury. Bryant caught 26 passes last season for 549 yards and eight touchdowns.
Arizona (4-1) won't see a pair of contributors take the field again this season, and another could be out for an extended period of time.
Special teams contributors Chris Clemons (hamstring) and Kenny Demens (torn ACL) were placed on season-ending injured reserve this week, while linebacker Alex Okafor will sit out two to four weeks with a strained calf.
Okafor is Arizona's best pass rusher off the edge, leading the Cardinals with eight sacks last season and two this year.
To fill the void, Arizona signed Dwight Freeney to a one-year contract this week. Freeney was one of the NFL's best pass rushers while with Indianapolis from 2002-12, but he hasn't had double-digit sacks since 2010 and logged only 3 1/2 in 16 games with San Diego last season.
Coach Bruce Arians thinks Freeney may be able to jump right in and contribute.
"He rushes the passer," Arians told the Cardinals' official website. "I don't think you have to teach him that."
The Cardinals -- who have dropped four of their last five against Pittsburgh, including a 27-23 loss in Super Bowl XLIII -- hope the NFL's highest-scoring offense can make up for what they lost in other phases of the game.
Arizona has posted 38.0 points per game and rebounded from a 24-22 loss to St. Louis with a 42-17 win over Detroit last week. Three veterans are leading the way, Carson Palmer (13 touchdowns, three interceptions), Larry Fitzgerald (490 receiving yards, six touchdowns) and Chris Johnson (405 rushing yards).
Johnson might be the biggest surprise after signing with the Cardinals late in training camp. His snaps ramped up while filling in for the injured Andre Ellington, and he has 296 yards and two touchdowns in his last three games.
Johnson, though, has never exceeded 100 yards in seven games against Pittsburgh, averaging 3.5 per carry while scoring twice.