Fred Jackson: Bills GM Whaley was never honest with me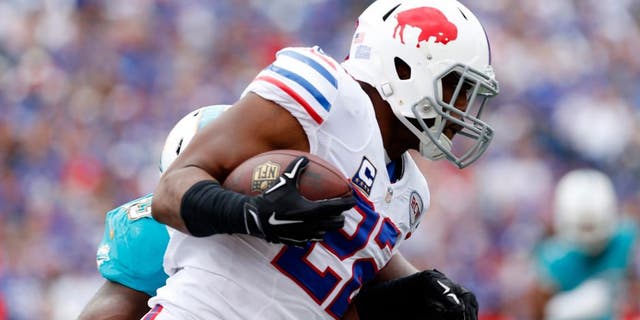 NEWYou can now listen to Fox News articles!
One day before teams were required to get their rosters down to 75 players, the Buffalo Bills made a shocking move, to say the least.
Veteran running back Fred Jackson was released by the team after nine years in Buffalo, completely blindsiding him and everyone on the Bills. Players have spoken out to voice their opinions on the situation, calling it "bigger than football."
For Jackson, the move obviously caught him by complete surprise. But he knows why it happened, and who pulled the trigger on his release.
"Doug Whaley was behind it, to my knowledge," Jackson told Bucky Gleason of The Buffalo News in a phone conversation. "He wasn't honest with me the entire time that I've known him. I have the utmost respect for the organization. There's only one person in that organization that I haven't gotten honesty from, and that was him."
Whaley reportedly "went rogue" in the decision to cut Jackson, but claimed that everyone was on board with the move. Regardless of what was said or what Jackson was told, he was "blindsided" by his release with more than a week before teams were required to get down to 53 players.
"I was definitely blindsided," he said. "I was not given that indication. I was under the impression that I had done enough to show I can still contribute to the team. To come in on the first cut with 10 days left, it definitely caught me off guard."
Fortunately for Jackson, he found himself with interest from one of the league's best teams just one day later. The Seattle Seahawks brought Jackson in for a visit with both sides remaining interested in getting a deal done. At the very least, Jackson sees Seattle's call as a good sign after leaving Buffalo.
"It's the best thing you can take from this," Jackson said. "When one of the best teams is one of the first that's calling, it lets you know that somebody does want you. That's the icing on the cake. It was great to have them tell me they're excited. I'm looking forward to showing that this old man still has something left in the tank."
(h/t Buffalo News)