Frankie Edgar: Nate Diaz 'absolutely has a shot' to beat Conor McGregor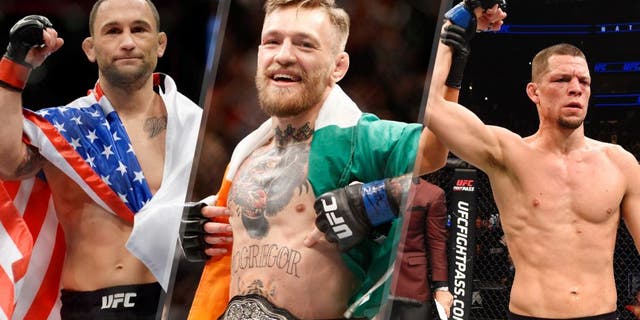 As much as Frankie Edgar wants to be the first person in the UFC to hand Conor McGregor a loss, the former lightweight champion believes Nate Diaz might get the job done ahead of him at UFC 196.
Diaz stepped up to face McGregor on less than two weeks notice following an injury to lightweight champion Rafael dos Anjos.
While Diaz is currently a heavy underdog with the odds stacked against him after accepting the fight with so little time to prepare, Edgar sees a lot of ways he can give McGregor problems that would give him the edge in the fight.
"I think Nate absolutely has a shot," Edgar told FOX Sports on Monday. "Coming in on 10 days notice, I don't know if he was sparring a lot. I know Dana (White) said he's getting ready for a triathlon but it's still different from sparring rounds.
"He's a pretty active guy so I'm sure he's in shape. I think that's one of his biggest tools. If he can get in Conor's face, he's got a strong chin, and he's such a volume puncher."
Another key Edgar sees going to Diaz's side in this fight is his reach advantage over McGregor.
Diaz will have three inches in height and two inches in reach, which may not sound like much but McGregor has depended on his size so much during his run up the featherweight ranks that Edgar believes it could potentially be a game changer in this matchup.
"(Diaz) has got great length. Conor does such a good job because he's always the longer guy," Edgar explained. "He cuts a boat load of weight to be the big guy and now he's not going to be the big guy."
For all the ways Edgar could imagine Diaz winning, he's still torn on where his own allegiance should lie going into this main event.
Edgar has been champing at the bit to get a shot at McGregor for the past year, but time and time again he hasn't been able to land the fight.
There's no exact logic to what happens next if McGregor wins on Saturday night. He could decide to remain at welterweight, or wait for lightweight champion Rafael dos Anjos to get healthy to challenge for that belt as well.
Edgar is admittedly torn on how he should feel going into the UFC 196 main event because what happens to McGregor will directly impact his next bout.
"I still don't know how to look at it," Edger confessed. "Because if Conor goes and wins, he still has the aura about him, but I don't know if that means he's going to stick around at 155 or go up to 170 and fight for that title.
"If he loses, he has no choice but to go back down and defend that title."
Right now, Edgar is more concerned about healing up an injured groin that cost him the chance to accept the fight with McGregor on short notice when the UFC came calling a week ago.
In a perfect world, Edgar would like nothing more than to get healthy and then face McGregor for the featherweight title in July, but a lot has to happen between now and then for that to happen.
"Ideally, that would be great," Edgar said about returning in July. "Even with this injury I could probably fight a little sooner if it heals up like it's supposed to, but UFC 200, it's going to be a huge show. There's going to be several title fights on there and I want to be a part of it."