Frankie Edgar knows he's the fighter Conor McGregor can't beat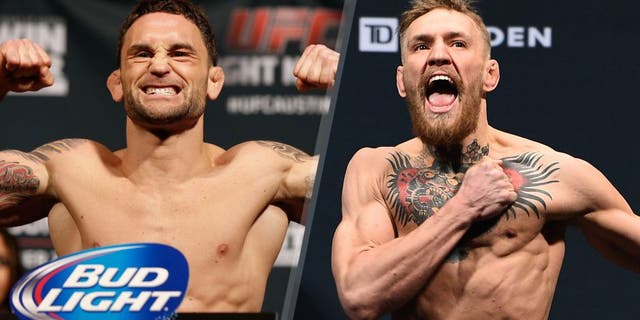 Frankie Edgar has wanted nothing more than to get a shot at Conor McGregor and the featherweight title, but as each day passes it seems more and more likely that it's never going to happen.
Edgar put his name in the hat last year at UFC 189 when Jose Aldo suffered an injury that forced him off the card, but the promotion opted to put Chad Mendes in against McGregor instead.
When Rafael dos Anjos got injured leading up to UFC 196 this weekend, Edgar finally got the call but he's still recovering from a torn muscle in his groin and once again he was unable to land the elusive fight with McGregor.
"It's like I can't catch a break here," Edgar told FOX Sports. "I was upset. I definitely would have taken it if I was healthy. I'm always training. Even now I'm banged up but I'm doing what I can. By no means am I able to take a fight on 10 days notice.
"It's frustrating. It's like I'm almost close enough to touch him but not quite yet. He's everywhere, too. In a sense it's a good thing. If he's everywhere and I'm attached with him that's not a bad thing. I just want to make sure it all works out in the end and I get my chance to fight him. Especially, if it's for the 145 pound title."
The other problem Edgar may be dealing with is a logistical nightmare considering where McGregor might go with a win over Nate Diaz on Saturday night.
There have been plenty of rumors that McGregor could stay at welterweight and take a shot at Robbie Lawler in a fight that would likely headline UFC 200 in July.
Add to that, McGregor has said that he will eventually return to featherweight one day to defend his belt, but that means the title will be put on hold for several months until he decides to go back to 145 pounds.
Edgar would like to believe deep down that he'll remain a thorn in McGregor's side until he eventually has to concede to the fact that he's the one fighter who everyone says could beat him yet the Irishman still hasn't faced.
"He can't ignore me," Edgar said. "As many supporters as he has, I have a lot of people saying that I'm the fight he can't win. I'm sure he hears that and it's got to eat at his ego and we all know he's got a big ego. The more I can pick at that, maybe I'll be able to pick a fight with him."
The one thing Edgar makes clear above anything else is that the featherweight title is ultimately his biggest goal although handing McGregor a loss would certainly be icing on the cake.
As a former lightweight champion, Edgar would love the chance to become a two division champion but McGregor is currently standing in the way of accomplishing that goal.
So as long as McGregor has the belt, Edgar will be gunning for him.
"The belt is 100-percent the most important thing," Edgar said. "Because that's the legacy, me becoming a two division champ, the third person to do that. That's what I want. But I think fighting Conor for it is the cherry on top. I want to beat the current champion. I want to show everybody that I'm the best 145-pounder in the world."
Edgar will actually be on the desk for FOX Sports on Saturday night helping to break down UFC 196 both before and after the fight. He's actually looking forward to standing next to McGregor should he come away victorious and asking him a few tough questions as analyst to fighter after the show is over.
As far as his own career goes, Edgar is going to wait to see what happens with McGregor against Diaz and then he'll plot his return to action.
"I'll see what happens March 5 and hopefully that week right after I'll see what he's doing and then I'll make my move from there," Edgar said.
"Even with this injury I could probably fight a little sooner if it heals up like it's supposed to, but UFC 200 it's going to be a huge show. There's going to be several title fights on there and I want to be a part of it."