Frankie Edgar happy to beat Conor McGregor, then beat him again for another title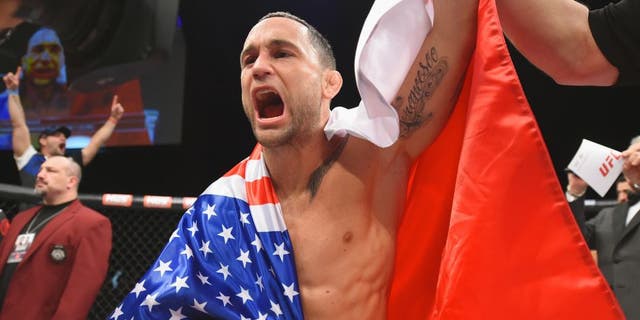 Frankie Edgar had a bad feeling when he went to Las Vegas last week to meet with UFC president Dana White and UFC co-owner Lorenzo Fertitta. Edgar thought he was going to receive some bad news.
Edgar shares the same manager as lightweight champion Rafael dos Anjos, and Edgar thought he wasn't going to receive a long awaited fight with Conor McGregor. He feared he would instead have to sit back and wait for his featherweight title shot.
Edgar doesn't exactly blame McGregor for targeting the lightweight title fight just after knocking out Jose Aldo in December. But that doesn't diminish his disappointment that he's no longer receiving the next shot at the Irish champion.
"I kind of had an idea it was going to happen before it was announced," Edgar told FOX Sports after the UFC 197 main event was confirmed. "I think Conor played the smart move, he played the business move. You can't blame him for that, it just sucks that it's at my expense and now I'm in limbo since I was supposed to get that next title shot. If he stuck around and lost to me, he has no option to go up to 155. I think now he goes up, win or lose, he's still got the belt and he can come back down to 145. He played the safe play which is smart by him.
"You don't see usually where the guys have that much say. Usually when you're the champion, you fight the No. 1 contender, you don't get to pick and choose. But he seems to be able to do that."
Maybe the toughest part about the way everything played out is Edgar's status is still in limbo with no real answers given to him by the UFC about what comes next.
He met with the promotion to discuss his options. But ultimately he's going to have to wait for March 5 to see how McGregor fares against dos Anjos before the UFC will make any decisions about the next fight for each man.
Edgar remains hopeful that he'll still get the next crack at McGregor regardless of the outcome of UFC 197. Edgar would like nothing more than to beat the featherweight champion at the biggest event of the year a few months later.
"Not much. It was pretty much wait and see what happens March 5 before they make any decision," Edgar revealed. "I know I'm in line for it. I assume (Jose) Aldo is being considered, but I went out there and made my case. I think that is the biggest fight, I think that's the fight most people are interested in seeing and I'm hoping the UFC does the right thing and books me and Conor for UFC 200.
"I'm pretty much on the backburner until March. I'm going to be in the gym to help my teammates and getting better and working on some southpaw fighters."
If there is one upside to the way things played out it's that McGregor defeating dos Anjos in March could make for an even bigger fight with Edgar come July. No fighter has ever held titles in two weight classes simultaneously and if McGregor is successful, his next fight could be an even bigger affair than the last one.
Edgar knows that won't be an easy task because as a former lightweight champion, he's seen just how deep and how tough that division can be to navigate. As big as a fight against McGregor would be with two titles draped over his shoulder, Edgar isn't sure that's the way things will play out.
"It gives a bigger aura to Conor and his image and what he's done and it definitely makes it a bigger fight. But I'm buddies with Rafael and I'm not one to throw daggers at anybody and wish anyone bad," Edgar said. "I think he's a very tough fight for Conor, he has all the skills to beat him.
"I did predict Aldo to win and look what happened. Anyone can win in this game, but I do think dos Anjos has the skills and the size and everything to have his way with Conor."
If McGregor wins at UFC 197 there is one scenario that hasn't been talked about, but it could be even bigger than anything that has been mentioned as of yet.
What if Edgar faces McGregor for the featherweight title and wins and then gives McGregor an automatic rematch with the lightweight title going up for grabs?
There are a lot of moving parts to even make that happen, but Edgar is open to the scenario and he'd be more than happy to take two titles off of McGregor in the end.
"I'd love to. We can do it back-to-back and that will be UFC 204 or whatever, that would be the next biggest fight," Edgar said. "I'm game. If they let me get my hands on him once, I'll definitely re-do it."
Until then, Edgar is just going to train like a mad man and wait for March 5 to get here so he can finally find out what the future holds for him in the UFC.
It's been documented that Edgar wanted to challenge McGregor at UFC 194 after he defeated Aldo, but the move was stopped by UFC officials. This time around if McGregor beats dos Anjos, the UFC might need a bit more security to stop Edgar from confronting the man he's wanted to face for the past two years.
"I'm hoping I get to fight on the biggest card in UFC history and make history by winning two titles," Edgar said. "I will be there March 5 and maybe I'll have to parachute my ass into that Octagon, they can't get me out of there."